Librarian Picks for August (1)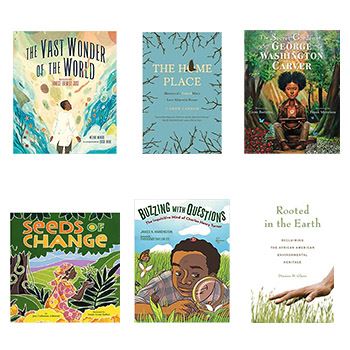 Recommended reading on nature related topics from librarians at the Toledo Lucas County Public Library.
The Vast Wonder of the World
by Melina Mangal
Ernest Everett Just was not like other scientists of his time. He saw the whole, where others saw only parts. He noticed details others failed to see. He persisted in his research despite the discrimination and limitations imposed on him as an African American. His keen observations of sea creatures revealed new insights about egg cells and the origins of life. Through stunning illustrations and lyrical prose, this picture book presents the life and accomplishments of this long overlooked scientific pioneer.
Find it at your Library [Book] [eBook] [eAudio] 
Seeds of Change
by Jen Cullerton Johnson
As a young girl in Kenya, Wangari was taught to respect nature. She grew up loving the land, plants, and animals that surrounded her -from the giant mugumo trees her people, the Kikuyu, revered to the tiny tadpoles that swam in the river. Although most Kenyan girls were not educated, Wangari, curious and hardworking, was allowed to go to school. There, her mind sprouted like a seed. She excelled at science and went on to study in the United States. After returning home, Wangari blazed a trail across Kenya, using her knowledge and compassion to promote the rights of her countrywomen and to help save the land, one tree at a time. Seeds of Change: Planting a Path to Peace brings to life the empowering story of Wangari Maathai, the first African woman, and environmentalist, to win a Nobel Peace Prize. Engaging narrative and vibrant images paint a robust portrait of this inspiring champion of the land and of women's rights.
Find it at your Library [Book] 
The Secret Garden of George Washington Carver
by Gene Barretta
When George Washington Carver was just a young child, he had a secret: a garden of his own. Here, he rolled dirt between his fingers to check if plants needed more rain or sun. He protected roots through harsh winters, so plants could be reborn in the spring. He trimmed flowers, spread soil, studied life cycles. And it was in this very place that George's love of nature sprouted into something so much more—his future. Gene Barretta's moving words and Frank Morrison's beautiful paintings tell the inspiring life and history of George Washington Carver, from a baby born into slavery to celebrated botanist, scientist, and inventor. His passion and determination are the seeds to this lasting story about triumph over hardship—a tale that begins in a secret garden.
Find it at your Library [Book] 
Buzzing With Questions
By Janice Harrington
Charles Henry Turner's mind itched with questions. Fascinated by animals, bugs, and crustaceans, Turner studied their lives. When books didn't answer his questions, he researched, experimented, and looked for answers on his own, even when faced with racial prejudice. Author Janice Harrington and artist Theodore Taylor III capture the life of this scientist and educator, highlighting his unstoppable curiosity and his passion for insects and biology. The extensive back matter includes an author's note, timeline, bibliography, source notes, and archival images.
Find it at your Library [Book] 
The Home Place : Memoirs of a Colored Man's Love Affair with Nature
By J. Drew Lanham
From the fertile soils of love, land, identity, family, and race emerges The Home Place, a big-hearted, unforgettable memoir by ornithologist J. Drew Lanham. 
Dating back to slavery, Edgefield County, South Carolina―a place "easy to pass by on the way somewhere else"―has been home to generations of Lanhams. In The Home Place, readers meet these extraordinary people, including Drew himself, who over the course of the 1970s falls in love with the natural world around him. As his passion takes flight, however, he begins to ask what it means to be "the rare bird, the oddity."

By turns angry, funny, elegiac, and heartbreaking, The Home Place is a remarkable meditation on nature and belonging, at once a deeply moving memoir and riveting exploration of the contradictions of black identity in the rural South―and in America today. 
Find it at your Library [Book] [eBook] [eAudio] 
Rooted in the Earth
By Dianne Glave
With a basis in environmental history, this groundbreaking study challenges the idea that a meaningful attachment to nature and the outdoors is contrary to the black experience. The discussion shows that contemporary African American culture is usually seen as an urban culture, one that arose out of the Great Migration and has contributed to international trends in fashion, music, and the arts ever since. But because of this urban focus, many African Americans are not at peace with their rich but tangled agrarian legacy. On one hand, the book shows, nature and violence are connected in black memory, especially in disturbing images such as slave ships on the ocean, exhaustion in the fields, dogs in the woods, and dead bodies hanging from trees. In contrast, though, there is also a competing tradition of African American stewardship of the land that should be better known. Emphasizing the tradition of black environmentalism and using storytelling techniques to dramatize the work of black naturalists, this account corrects the record and urges interested urban dwellers to get back to the land.
Find it at your Library [Book] [eBook]