Metroparks Receives Governor's Award For Howard Marsh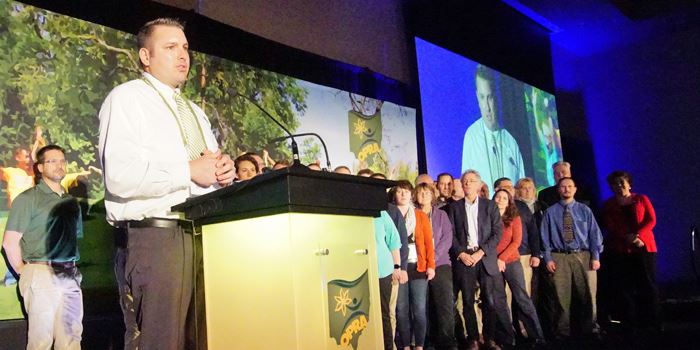 Metroparks Toledo is the winner of the 2018 Ohio Parks and Recreation Association Governor's Award for phase 1 construction of Howard Marsh Metropark.

"Howard Marsh is a fabulous Metropark and the culmination of a decade of partnership between Metroparks Toledo and many state and federal agencies," said Woody Woodward, executive director of the Ohio Parks and Recreation Association. "It helps to protect Ohio's most valuable natural resource, promotes tourism and serves as a shining example of the way that parks and recreation agencies can improve the quality of life for the people they serve."
The award was presented last night at OPRA's 

Howard Marsh is the single largest wetland restoration project completed under the Great Lakes Restoration Initiative. Accomplished goals included habitat restoration, enhanced water quality and improved recreation opportunities. The achieved metrics include:
571 acres of new restored coastal wetlands
116 acres of new upland habitat (including 7,500 new trees)
6 miles of deep water channels for boating and fish habitat
6.6 miles of new hiking trails and boardwalks
191 species of resident and migratory song birds, shorebirds and waterfowl have been documented using the restored habitat since opening
The park's unique design immerses park visitors into a total wetland experience with a spectacular 360 degree view of three interconnected marshland units interspersed with nine restored upland habitat islands.

The Governor's Award was established in 2010 to recognize the one park and recreation program or project that has had the most significant impact on quality of life in the preceding year.  The award winner was announced and the award presented at the OPRA Annual Awards Dinner on February 5 at the Kalahari Convention Center in Sandusky.
All fourteen winners of OPRA program and project awards were considered for this statewide "best in show" award.

Officials from eight statewide organizations formed the voting panel for the 2018 award.  They included: Ohio Association of Broadcasters, Ohio Association of Realtors, Ohio Automobile Dealers Association, Ohio Homebuilders Association, Ohio Library Council, Ohio Manufacturers' Association, Ohio Municipal League and Ohio Township Association.  They judged the program and project winners based on the following criteria:
Demonstrated impact of the program or project on the community quality of life;
The project or program is unique/innovative or presents a new way of doing something;
The program or project addresses a felt need in the community and includes clear goals which are achieved; and,
The program or project is utilized by the community and outcomes can be demonstrated.
Mary Mertz, who was recently appointed director of the Ohio Department of Natural Resources, announced the award and presented Zenk with a proclamation signed by Governor Mile DeWine. OPRA also presented Metroparks $500 for the park district's foundation.
More than 20 members of the Metroparks staff, three board members, former executive director Steve Madewell and representatives of the Ohio Division of Wildlife joined executive director Dave Zenk on stage to accept the award.
"This is the single largest project in our agency's 90-year history," Zenk said. "No one agency could pull this off."
 Zenk called out the Ohio Department of Natural Resources and the Division of Wildlife specifically for its many contributions, including more than half the cost of acquiring and restoring the property. Joining him was Scott Butterworth, district manager of the Ohio Division of Wildlife.
In the video above, executive director Dave Zenk and natural resources supervisor Denis Franklin talk about the new park and it's importance to Lake Erie.
Proud of Conservation Achievements
Zenk also said that he is most proud of Metroparks conservation track record, noting that members of the staff who worked on Howard Marsh and other significant restoration projects have received OPRA's Jack Hanna Resource Conservation Award for three consecutive years. This year's recipient, Tim Gallaher, and the two previous recipients, Denis Franklin and Tim Schetter, joined Zenk on stage.
Among other notable accomplishments in his 16 years at Metroparks, Gallaher (pictured), was directly responsible for planting more than 95,000 trees across Lucas County.
"Congratulations to Tim Gallaher, this year's winner of the Jack Hanna Resource Conservation Award," said Jack Hanna, the award's namesake, director emeritus of the Columbus Zoo and longtime TV personality. "He and his colleagues at Metroparks Toledo are perfect examples of what makes Ohio great.
"Our state is full of great parks and even more great people who are working every day to ensure Ohio's wildlife continues to prosper.," Mr. Hanna said. "I am honored to have my name associated with such a wonderful award that promotes the impressive conservation work being done right here in Ohio."