Metroparks Receives National Gold Medal Award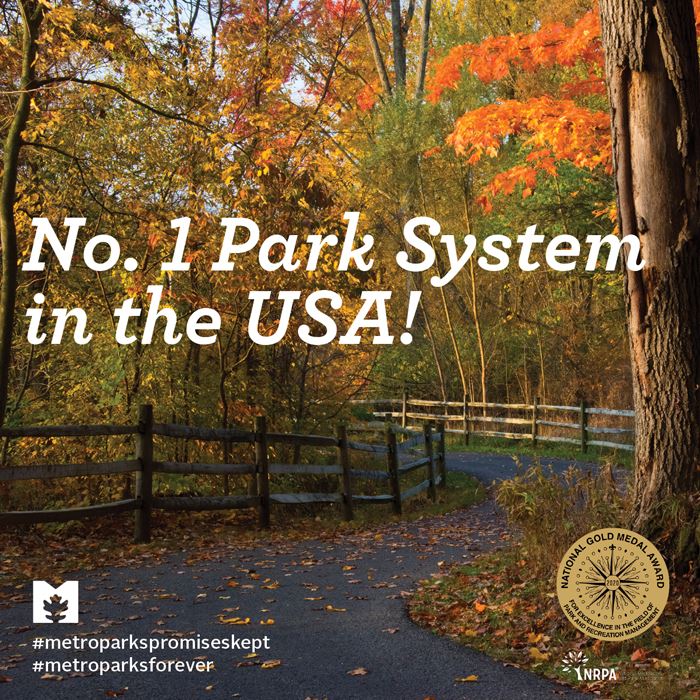 Metroparks Toledo is the recipient of the 2020 National Gold Medal Award for excellence in parks and recreation management, the most prestigious honor in the parks and recreation industry.
Metroparks was awarded the Grand Plaque in Category I (large park systems) October 27 during a livestreamed presentation by the American Academy for Park and Recreation Administration, in partnership with the National Recreation and Park Association. Other finalists were Dallas, Mesa, AZ and E. Baton Rouge.
"Our community has supported conservation like no other, from passage of a land levy 18 years ago that was the catalyst for connecting parks to parks and people to parks, to issue 17 on next Tuesday's ballot which will further advance our vision of access to green space for everyone," said Scott J. Savage, president of the Board of Park Commissioners. "Each step of Metroparks progress since 1928 reflects a community that values natural resources and the role these treasured parks play in creating a great place to live. I am so grateful to Dave Zenk, the executive directors before him and every single member of the staff who has contributed to making our park system the best in the business."
In presenting the Grand Plaques, AAPRA President Dianne Hoover shared, "The National Gold Medal Awards, both the Finalist and the Grand Plaques, are especially significant this year as agencies were adapting to a new normal due to the COVID-19 pandemic. Agencies were experiencing unprecedented increase in park usage at the same time they were adapting to new recreation program delivery challenges. Each agency is to be commended and congratulated."
Metroparks was among 20 park and recreation agencies and four military installations across the U.S. and in Germany to receive this year's National Gold Medal Award Program Finalist Award. The other finalists in the large district category for agencies serving populations of more than 400,000 were Dallas Parks and Recreation, East Baton Rouge Recreation & Park Commission and Mesa Parks, Recreation & Community Facilities.
Previous Gold Medal recipients include park and recreation agencies in Austin, Cleveland, Chicago and Charlotte.
Telling the story: This five-minute video was submitted to the Gold Medal Award judges as part of the rigorous application process.
"Great communities have great parks, and ours is a great community," said Fritz Byers, a vice-president of the board. "We who live here know that. And we at the Metroparks are delighted with this award because it reflects a broad national recognition of our great parks, and it spreads the word about the kind of place we as a community have created. We are rising together, creating one of the nation's premiere places to live, work, and visit."
"This is a proud moment for our region. Even to be nominated in a category with great cities like Dallas, Masa and East Baton Rouge was an honor," added Lera Doneghy, the other vice-president of the board. "I think what the judges saw was that, even though we are the smallest of those park districts, Metroparks has the biggest impact on our district. We opened our first park during the Great Depression, Wildwood during difficult times in the 1970s, and we are grateful to be able to help our community get through our current, difficult times."
Founded in 1965, the National Gold Medal Awards program honors communities throughout the United States that demonstrate excellence in parks and recreation through long-range planning, resource management, volunteerism, environmental stewardship, program development, professional development and agency recognition. Agencies are judged on their ability to address the needs of those they serve through the collective energies of community members, staff and elected officials.  
A panel of five park and recreation professionals reviews and judges all application materials. Judges are chosen for their considerable experience and knowledge in parks and recreation on both the local and national levels. 
"It says a lot about our community that it has supported the top park system in the country," said Dave Zenk, executive director. "We are shattering negative stereotypes about the 'Rust Belt' as people around the country learn about our incomparable quality of life. I want to thank our talented team for its dedication to achieving the highest level of professional standards."