'Nizir' Is First Four-legged Retiree From Mounted Patrol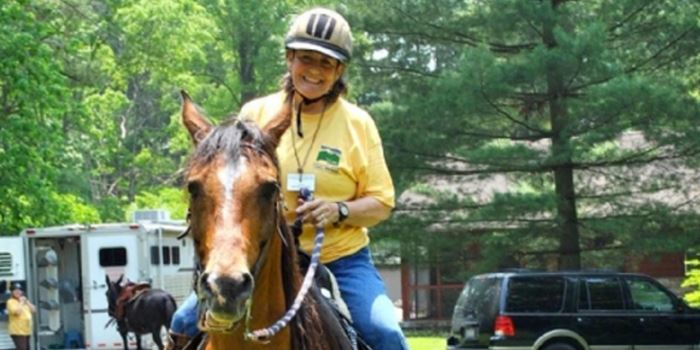 A 30-year-old horse named Nizir, known to many Oak Openings visitors, is Metroparks first equine retiree.
Susan Fortney and Nizir (pronounced Nizaar), started patrolling Oak Openings Preserve horse trails in the summer of 2011 for the Mounted Volunteer Trail Patrol, but their history together started long before.
Susan Purchased Nizir, an Arabian gelding, in 2000 when he was 15 years old and for the next 15 years they would compete in team penning events, fundraisers, fun shows, camping and parades. They've also covered thousands of miles of trails together, mostly in Michigan and Ohio.  They've been an inseparable team.
Nizir has always maintained a spirited and competitive personality so making the decision to retire him from Mounted Patrol was difficult for Susan. Horses want to please and Nizir is no exception. He enjoys the park, being around people and being ridden on the trails, but at age 30 his stamina is starting to fade. Choosing to retire a trusty mount can be difficult but knowing you are doing the right thing for a senior horse helps make the choice easier especially when it is in the animal's best interest. 
Nizir's gentle nature has brought joy to many people.