Open Houses Let You Shop for the Right Venue for Your Event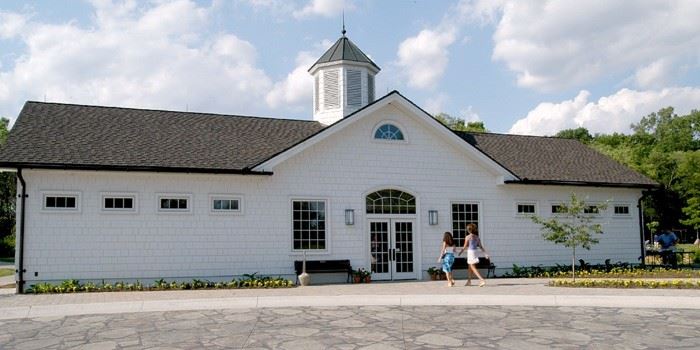 Metroparks facilities are available for weddings, receptions, bridal and baby showers, family reunions, business meetings and retreats as well as other events. These venues in beautiful settings can make any gathering memorable.
To help plan your event, the Customer Service Dept. holds open houses throughout the year at various Metroparks where you can see the facilities and talk with staff about your questions before you reserve a date.
Open houses are from 4 to 6 p.m. on the following 2019 schedule.
See the Features and Rentals page for a complete list of available buildings and shelters.
---
Pearson
1st Tuesday of each month
at Macomber Lodge and Packer-Hammersmith Center
January - No Open House scheduled
February 5
March 5
April 2
May 7
June 4
July 2
August 6
September 3
October 1
November 5
December 3
---
Farnsworth
2nd Tuesday of each month
At Roche de Bout and Indianola
January 8
February 12
March 12
April 9
May 14
June 11
July 9
August 13
September 10
October 8
November 12
December 10
---
Side Cut and Fallen Timbers
3rd Tuesday of each month
At the Lamb Center and Fallen Timbers Visitor Center
January 15
February 19
March 19
April 16
May 21
June 18
July 16
August 20
September 17
October 15
November 19
December 17
---
Secor
4th Tuesday of each month
At the Secor Room
January - No Open House scheduled
February 26
March 26
April 23
May 28
June 25
July 23
August 27
September 24
October 22
November 26
December - No Open House scheduled
---
Oak Openings
2nd and 4th Wednesday of each month
At Oak Openings Lodge and the Buehner Center
January 9 and 23
February 13 and 27
March 13 and 27
April 10 and 24
May 8 - Open House will be for Buehner Center Only
May 22
June 12 and 26
July 10 and 24
August 7 and 12
September 11 and 25
October 9 and 23
November 13 and 27
December 11
---
Wildwood
1st and 3rd Wednesday of each month
At the Ward Pavilion and the Farmhouse
January 2 and 16
February 6 and 20
March 6 and 20
April 3 and 17
May 1 and 15
June 5 and 19
July 3 and 17
August 7 and 21
September 4 and 18
October 2 and 16
November 6 and 20
December - No Open Houses scheduled
---
Swan Creek 
1st Thursday of every month
At the Yager Center and Brookwood Center
January 3
February 7
March 7
April 4
May 2
June 6
July - No Open House scheduled
August 1
September 5
October 3
November 7
December 5