Park People: Al and Jan Grant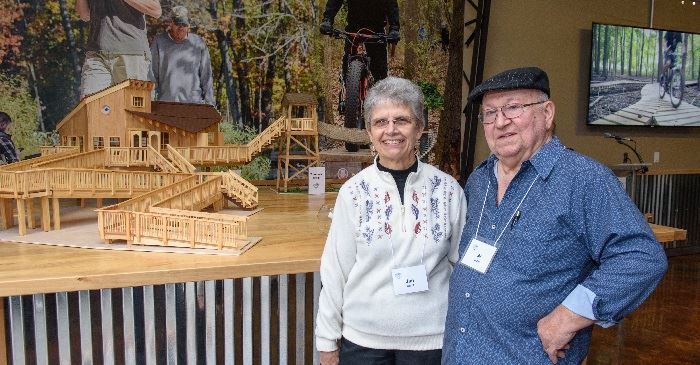 Al and Jan Grant
Loyal Metropark Members, Nature Enthusiasts, Treehouse Model Builders 
The 4th of July holds a very special place in the hearts of Al and Jan Grant. That's because 40 years ago under the fireworks is where they had their first date – and 2 months later, the sparks led to them to the altar. Many of their dates were at Toledo Botanical Garden, because Al and Jan are truly nature enthusiasts!  They were among the first Metropark members giving their support for more than 30 years.
Al, a retired licensed plumber and skilled woodworker can pretty much build anything!  Jan spent her career in a store that sells construction and home improvement goods. She can speak and understand Al's carpentry language. One could say that their garage is their Carpenter's Shop because together this is where they have worked on many projects for their Metroparks.
Thousands of park visitors have enjoyed their craftsmanship which has been on display in Metroparks across the district. The couple has built Observation Bee Hives for Wildwood, Secor and Swan Creek. A 16-foot working model of the canal locks for Side Cut. A 24 unit Purple Martin birdhouse. A model of the 1300 foot boardwalk at Howard Marsh and of course those treehouses! 
Al and Jan Grant were asked to build a treehouse model after touring the construction site on a Member's only bus tour last year.  The Grants will be remembered for their impeccable skill of using the actual Nelson Treehouse blueprint drawing for the treehouse site, and with the use of an engineering scale ruler and magnifying glass, Al scaled down the measurements and made a complete model of the Cannaley Treehouse Village! Twenty-five cases of donated wooden paint stir sticks was the primary material used for the outer construction of the treehouse models; and donated pizza boxes were used for the roofs. The Grants are also a resourceful pair saving the Metroparks thousands of dollars for materials! 
The Cannaley Treehouse Village will be the first of its kind in the country and the model was on display at Holidays in the Manor House where thousands had an opportunity to visualize their very own overnight stay up in the trees.  Because of Al and Jan's generosity, many were moved to support this very important project. 
Al and Jan love their Metroparks!  Al said, "Metroparks looks to the future and gives people options as to how they can relax."