Park People: Eleanor Killam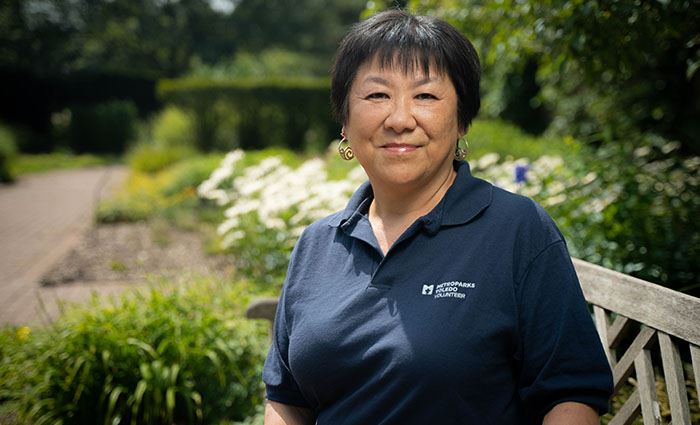 Eleanor Killam 
Toledo, OH
How do you lend a hand at Metroparks?
I have volunteered at the Toledo Botanical Garden (TBA) taking calls and working on the Lucas Co., Horticultural Hotline, the monthly and general cleanup in the Garden, and the Manor House during Christmas.  I also helped coordinate the Master Gardner volunteers in supporting the Rebecca Lois Law exhibit at the Toledo Museum of Art. Recently, I became a TBA Ambassador, and volunteer in that capacity.
How long have you volunteered at Metroparks?
I started volunteering when I became a Master Gardener volunteer in the spring of 2018.
Why do you give back to your community?
I grew up in San Francisco, and moved to Toledo 21 years ago.  What has always impressed me about Toledo are the many community "jewels" that are so easily accessible to the general public, such as: the Metro Parks, the Toledo Museum of Art, and the Zoo. Community support and involvement in these organizations is strong, and I wanted to do my part.  I also love nature and the outdoors, and learning about plants and our natural environment.
Why do you volunteer at Metroparks?
I volunteer at the metro parks because I want to continue learning, and love to interact and collaborate with people who have similar interests. 
Your Favorite Park, trail or activity at Metroparks?
I love the Toledo Botanical Garden's trees, gardens and flowers, and the trails at Wildwood Preserve. I would like to become more familiar with some of the other metro parks in the future.  One of my favorite activities, is admiring all the wildflowers that come up in the spring at Wildwood.
What would people be surprised to know about you?
I have been involved in studying and performing Middle Eastern dance for over 20 years.
What is the best thing (or some of the best things) about volunteering at Metroparks?
The best thing about volunteering is being able to support the Metroparks in a small way, while enjoying the beauty of these natural environments, as well as meeting and working with people who love these things as well!