Park People: Jordan Kotz Memorial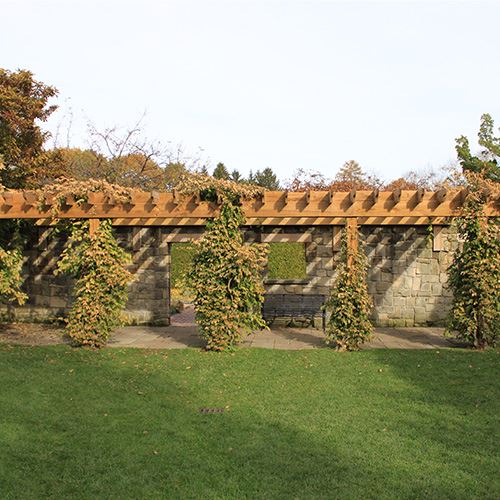 Jordan Kotz
Metroparks Supporter
Toledo Botanical Garden
Green Garden Arbor renovated in his memory with support from his family and friends
What was Jordan's favorite part about Toledo Botanical Garden?
Jordan would visit Toledo Botanical Garden (TBG) every Friday after work, he'd walk and take photos of the plants, sculptures and anything that caught his eye although the family never asked why, but guessed it was his way of unwinding after a long, strenuous week.
Looking at Jordan's Instagram shows that he loved all the small things. Jordan would go on about the time spent there, but saved what he loved to see for what he took pictures of. He loved flowers, stones, textures and beauty and finding that beauty in weird spaces. He loved exploring the interactions and juxtapositions of man-made elements and nature. The blending of organic shapes with industrial ones.
Every Friday there was a standing invitation with all of Jordan's friends to join him at the garden. His nature was to teach, in his own way, all of his friends and family the intricacies of his passions. Whether that was photography, nature, calligraphy, music or a good scotch; he would spend as much time as you were willing to give to impart his wisdom. You can see his photos on Instagram @noisegeek.
Why did you choose to honor Jordan's memory in this way?
We were all hurting and looking for a way to keep Jordan's memory and spirit alive in a way that we could visit. While COVID was raging and being together inside was dangerous at best, Judson mentioned the gardens in a text, donating a bench or similar, and the idea grew. Family posted a fundraiser, thinking we could stretch enough to help fund something small, and wound up raising an amount of money that surprised us all. Jordan touched so many lives directly and indirectly and that showed in the weeks the fundraiser was running. The project to rehabilitate the arbor in the green garden spoke to me directly, too – our daughter Amelia calls it her "secret garden", and it's her favorite place in the park.
Jordan was a humble man and not one to crave or seek attention, but we felt a need to honor him in some way. Everyone should know that Jordan existed and was loved, so we decided to donate money to a place that blessed him with peace.
And now, in a way, it will do the same for all of us. The very idea of honoring Jordan like this, or a in any real way, is the antithesis of who he was, and he would probably roll his eyes at us and shake his head in bemusement. But in our way, having been touched by who he was, we felt that to be able to give back to a place that brought him so much enjoyment, and be able to spread that passion for all to enjoy, was a fitting way to remember him.
What impact do you hope to make with your support?
When we first discussed the idea of donating to the park, we had our hearts set on a bench. We wanted the real physical experience of being able to go and sit with Jordan, share the news, grieve, remember and even laugh. It was a selfish endeavor for those of us involved as well as a way to stay connect to Jordan. When the plan morphed into what it became, this massive project, and a space where we could have that connection to Jordan, but also a space for everyone who visits the garden to enjoy, it took on a larger meaning.
We have already seen an impact from this support. The day that we gathered with 30 to 40 of Jordan's family and friends at the completed arbor, there was a wedding in the Green Garden. We were able to share our memories of Jordan with the wedding party, and they shared our moment of silence with us.  To see the Green Garden being used to celebrate a milestone in life was cathartic for all who were there.
The arbor and plaque are located in the Perennial Garden. Since it's a wedding venue and our memorial campaign helped beautify the space, my hope is that any celebration of love will be enriched by the love we had for Jordan.
We hope everyone takes the time to read the plaque, not just Jordan's, though that matters to use – always, read the plaque. Everywhere you go, when you see a dedication or a plaque or a small beaten sign, take a minute to read the plaque and digest what it means.
Do you have a specific memory of Jordan and the Toledo Botanical Garden you would like to share?
While Jordan was alive, we never visited the gardens together as many times as we all went…so no. But we share this memory.
Going through one of the hardest times of my life, Jordan took the time to let us know that our feelings were valid, and that what we were going through was brutal. Knowing that he could see us clearly and calmly, rationally, and kindly just accepted what we were saying as my emotional truth meant more than anything else could have at that time. He was one of the truest, kindest, and finest people we've ever known, and wish we could have told him that again one more time.
We refer to Jordan as a friend, but he much more fits in our life as family. He was the first person besides me and my wife to hold my children in the hospital when they were born. He was ever present in their lives and never treated them as anything but friends, on the same level that he treated me. They were just more people to love and to teach about the things he loved. To quote my oldest daughter who recently wrote about Jordan for a school project, "Jordan was my mom and dad's. But he was mine too. He was nice, kind, funny, and like my family. He had so many people who loved him so much."
Jordan's favorite time of year to visit TBG was during winter. He loved bundling up in pea coat and scarf, and trudging through the ice and snow all so he could photograph random objects. After he passed, I found a photo he took of a ground light with a cracked glass cover. It was so mundane, simple yet astonishingly sublime. In some ways, it defined who Jordan was: a person who found beauty in everything.