Park People: Larry and Teryl Hatcher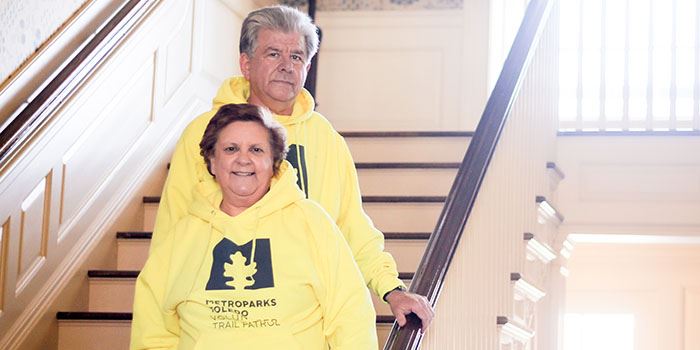 Larry and Teryl Hatcher
Larry is from Springfield Township, Lucas County, Ohio and Teryl is from Bay Village, Ohio. 
How do you lend a hand at Metroparks?
We mostly volunteer as Volunteer Trail Patrol. 
How long have you volunteered at Metroparks?
We have been volunteering since May 2010. 
Why do you give back to your community?
Larry gives back because it's wonderful that people can take advantage of all the great things the Toledo area has to offer but I also believe it is everybody's responsibility to pay it forward whenever and however they can. That is why I volunteer for several organizations around Toledo. And I might add, it just feels good to do so too.
Teryl gives back to the community to help create a better society which to live. Volunteering not only enriches my life, but of those around me as well.
Why do you volunteer at Metroparks?
Larry volunteers mostly due to how easy it is to find a good fit and then how easy it is to volunteer once you find that niche. Everybody at Metroparks Toledo are most welcoming and truly appreciative of the work the volunteers do. 
Teryl likes to believe that by being an extension of the Rangers, she's filling a critical role which helps to insure the safety and needs of park guests. 
Your favorite park, trail or activity at Metroparks?
Larry has several but his favorite, and he knows they are not native, is walking though the towering pines and the soft, pine needle carpets at Oaks Openings Preserve. 
Teryl likes walking along the river at Farnsworth, especially in the spring when the Redbuds are in full bloom. 
What would people be surprised to know about you?
Larry said I know this is not the norm but I had the same job for 41 years working for the Maumee City Schools. First as an Electronic Technician then their Information Technology Specialist. I am currently retired but still work occasionally for the school district. 
Teryl and Larry enjoy trains and like to take trips on Amtrak. We try to go on a major trip every few years. 
What is the best thing (or some of the best things) about volunteering at Metroparks?
Larry likes being a part of the welcoming Metroparks' Community which includes the employees, volunteers and of course guests. Metropark employees are always appreciative and it is a great feeling when guests to the park just simply say "Thank You for doing this". 
Teryl really likes being outdoors. The Metroparks offers me the chance to be outside while giving back to the community.