Park People: Matt Yarder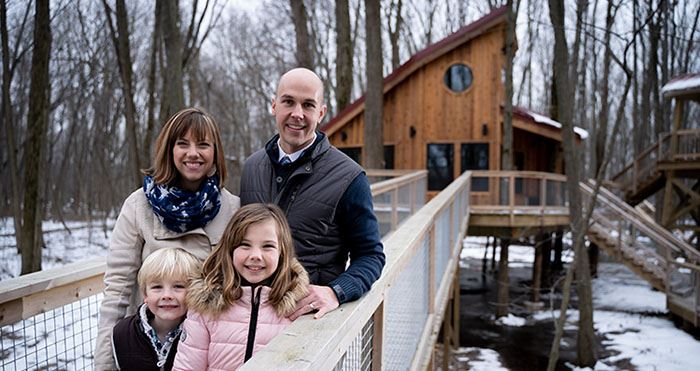 Like most Toledo natives, the Metroparks have always been a part of our family's lives. But until recently, I never fully grasped the magnitude and imagination this anchor institution holds within our community. 
As a child growing up, I can recall the school field trips at Wildwood and the grandeur of this magical forest. It always seemed enormous beyond possibility and hiding wonders only found in fairy tales. I could not perceive its boundaries and my imagination took full advantage. Then, after my amazing wife Katie and I started our own family, the gift of these pristine, safe, natural resources became even more ingrained into our lives. My wife would send me photos while I was at work of our children (Amelia 8, Pierson 6), smiles across their faces, on some playground apparatus or sprinting down a forest trail I had never seen before.
 
I would text back, "Where are you today?"
Her reply "Farnsworth silly!" 
A few weeks later another photo would pop-up.
"Oh man that looks fun!" I would reply. "Where did you find this place? You take a road trip to Columbus?" 
Then on the weekends, we would all go back to all the places they explored. Still, I took for granted these gifts in my children's lives, thoughtfully placed and impeccably cared for throughout our Toledo community. In my naivety I just thought they have always been here and they always will.  
It wasn't until I was asked to be part of the Cannaley Treehouse Village project that I fully understood the imagination, thoughtfulness, and responsibility that our Metroparks Toledo embraces every day to make our community one of the absolute best places in the world for engaging with the outdoors.
Service Leadership is something my wife and I greatly value and want to develop that passion in our children. Between us, we have been fortunate enough to be part of many great organizations in our community that do benchmarking work for business, economic, workforce, education, conservation, and young professional development. The time we invest in these organizations, although highly worthy, sometimes takes away time we get to spend together. As our kids have gotten older we have been more critical of how we spend this time. But when I was approached about joining the Metroparks for the Treehouse Village, I knew this was the type of project that I could latch onto and SHARE with my whole family. This was a project that brought service leadership and the impact of a community working together to the forefront of our children's lives. Daddy talking about workforce development is only so exciting to a 6 and 8-year-old…but a village of treehouses, like magical forest castles…now I had their attention! 
"Are you kidding! A whole treehouse village? All privately funded…how are we going to achieve this? Who cares! I'm in!" 
That is pretty much how it went. And the instant I joined the treehouse team, the energy was equally apparent around the table. The whole project was thoughtful, creative, ambitious, and loved from the start. Our community stepped up like we always do in Toledo. Over 750 individual donors joined together to make this project a fairytale come true. Best of all, with my wife by my side, we watched our children be little tour guides at special treehouse events. We listened to them tell stories of how it started and why we are lucky to have it in Toledo. They wanted to be a part of this project so others could benefit. They now understood what serving a greater cause could achieve. 
And here we are, only a few months away from the grand opening. The Metroparks and our community once again prove why Toledo is one of the best places to live, work, and raise a family. I can't wait to watch my children experience our natural world from this magical perspective. I can't imagine being anywhere else. Thank you, Linda, the Metroparks leadership team and construction crew, and the entire Toledo Community for bringing our childhood imaginations to life. 
Matt Yarder is a Metroparks Member, Metroparks Toledo Foundation Board Member, Treehouse Fundraising Committee Member, and a supporter of Metroparks Toledo both through his personal philanthropy and his family business, The Yarder Manufacturing Company.