Park People: Mosser Construction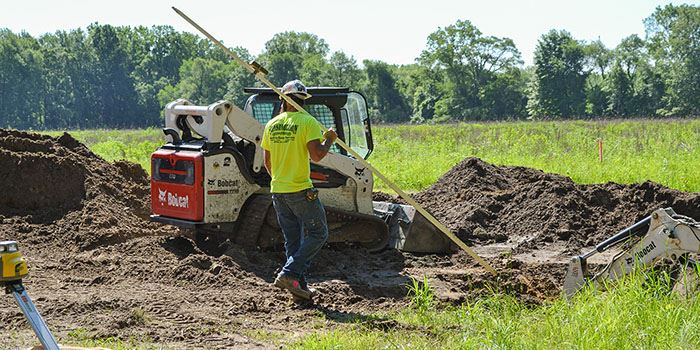 Mosser Construction 
Mosser Construction partnered with Metroparks to install the bathroom facility at the new Cannaley Treehouse Village, providing in-kind services for materials and labor. 
Mosser is a full service construction company servicing a variety of public and private clients in Northwest Ohio since 1948. They have built a solid reputation over the years by leveraging technical abilities, solving complex problems, and on taking on the challenges of difficult projects. 
What inspired you to get involved with the Treehouse Village? 
Each year, Mosser sets a robust community giving budget that includes civic groups, local non-profits, special causes, and several key pro bono projects for the community—including the Habitat for Humanity, streetscapes and more. As an employee-owned company, our people demand it. It is part of our culture. We know it's not only the right thing to do, but it makes good business sense to support the community in which we live and work.  
The Treehouse Village waterline project was a great fit for Mosser's philanthropic priorities. We see tremendous value in putting our skillset to use to support projects that enhance quality of life for our community. In addition, being involved in unique and meaningful projects adds dimension and enrichment to the work-lives of our employees. 
What impact do you hope to make with your contribution? 
When Mosser learned the Metroparks was exploring the logistics of building a bathhouse to complete the Treehouse Village we knew we had the right skillset and could help make this project a reality. If all companies do their part to partner with organizations that improve the social and economic welfare of our community and surrounding environment, such as the Metroparks, our community and society will be more likely to prosper.  
What does Mosser love about the Metroparks? 
It is easy to see why the Metroparks has earned the honor to call themselves number one in the country! They do a phenomenal job with advancing their mission of connecting people with nature in compelling and exciting ways. Many of our employees utilize the parks regularly because they are so diverse and accessible across the region. From a business standpoint, we love that they work on transformative, big-impact projects for the region such as the Treehouse Village and the waterfront revitalization effort.  
What is unique about Mosser and how you give back to the community? 
The diversity of causes we support—both locally and nationally. It is definitely a significant part of our culture.