Park People: Sharon Simmons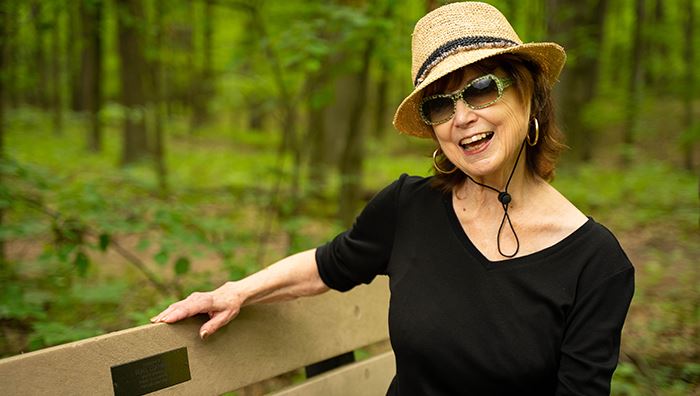 Sharon Simmons
Longtime Metroparks Supporter, Treehouse Cabinet Member
"Wildwood is my second home," Sharon Simmons exclaimed. Indeed, she is often seen power-walking the trails or chatting with "park pals" — some human, some canine — she has met through the years.
She first came to Wildwood Preserve in the late 1990s to cover the Metroparks Gala fundraiser for her newspaper, The Village Voice of Ottawa Hills.  She soon hit the trails, drawn by the lush green canopies, glorious bird song and fragrant foliage.  She joined Metroparks at the Oak Tree level, then served on the Metroparks Gala committee during its final years.
Sharon's ongoing support of Metroparks stems from its conservation efforts throughout the region. "By protecting — and in some cases, restoring — our natural resources, Metroparks is enriching the quality of life for all of us — and maintaining valuable habitat for our furry and feathered friends," she said. 
When asked to serve on the Cannaley Treehouse Village campaign cabinet, she jumped at the opportunity to help bring yet another Metroparks vision to fruition.
While Wildwood Preserve is "home," Sharon emphasized that she also enjoys visiting other Metroparks, particularly the waterfront trail at Farnsworth and the newly-restored Howard Marsh, which now draws snowy egrets, great blue herons and other wildlife.  And, she appreciates the learning experiences offered by Metroparks programming — and the Connections Camp that makes Metroparks wonders available to all children. "Truly, Metroparks has something for everyone," she said.