Park People: The Cooper Family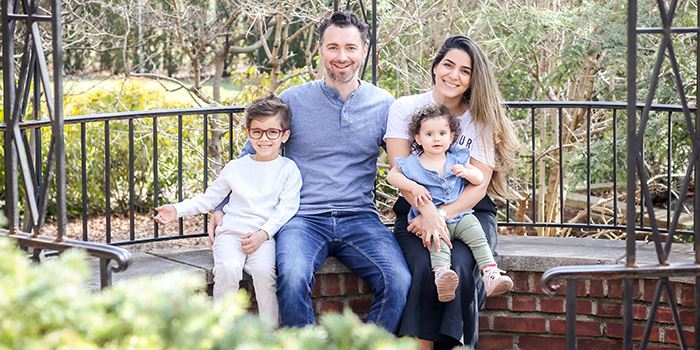 Life Among the Trees
They've always taken the "side" entrance into Wildwood Preserve Metropark, coming in from Corey Road and heading over the long bridge and along the platform with the scenic overlook. They hike the lower trails along the river and stop at the bridge behind the Manor House for a look over the ravine.
The outdoors has been central to the lives of Joshua and Negar Cooper, and Wildwood has been a companion throughout their time together. The park draws them at all times of the day and year, sometimes when few others would want to be outdoors. It has accompanied them through their courtship and early marriage, and now as they're raising son Rassa (7 years old) and daughter Sarva (19 months old). It's a balance to their busy work lives, where Joshua says that "everything need not be a Zoom call."
This draw to the Metroparks, and to Wildwood in particular, led the Coopers to establish a planned giving program, with Metroparks Toledo Foundation a beneficiary of their estate. "This park, in particular, has been central to my life," said Joshua. "Not all regions have access to a park system like this. Our Metroparks are essential to balance in life, and they are really a source of pride for this community, now and in the future."
Joshua and Negar came from different parts of the world. Joshua was Toledo born and raised, a Sylvania Northview graduate who has frequented the Metroparks throughout his life. Negar was raised in Tehran, Iran, and spent much time hiking and skiing in the mountains near the city. At age 22, she moved to Cortona, Italy, and met Joshua when he was vacationing there. They returned to Cortona in 2011 to be married.
Their outdoor nature and the similarity of their families was what drew the couple together. But their love of Wildwood was also a big factor. Negar first visited Joshua in Toledo in November 2010 and visited Wildwood for the first time just after a major ice storm. "She loved the park, the scene was magical, and we took some amazing photographs," Joshua said.
Once they married, the Coopers lived close enough to Wildwood that they could walk there, and it was a part of their daily lives. The park was an important presence when they were expecting their first child, Rassa, and today with both children. They've moved to another home but made sure that it was still close to the park so they could continue to make it part of their days.
Joshua is an entrepreneur in the technology industry and Negar works in media and is a small business owner, so being outdoors is critical to keeping a balance in their lives. "With the increase in digital technology, it's important for our mental and physical health to reconnect and be more cognizant of our surroundings," he said. "Northwest Ohio is wildly unique, and it's something we should all be proud of." The family's new home is situated in the northeast corner of the Oak Openings Region, and they're also spending time exploring native plants and animals there.
"We are so impressed with the Metroparks mission, and their dedication to teaching the community about this region and its beauty," he said. The Coopers are members of the Metroparks' Legacy 1928 Society and created their planned gift program to preserve and enhance the Metroparks for the future. "Organizations like the Metroparks give people a sense of pride in the unique qualities of our surroundings. It's important that these special places will remain and flourish for the future."