Park People: Valerie Juhasz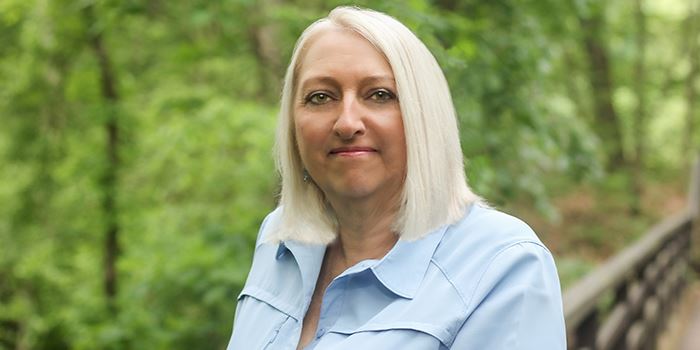 Valerie Juhasz
Production Manager, Marketing
Hometown
Tiffin, Ohio, presently Sylvania, Ohio
First Job
Tiffin Enterprise, making speaker cabinets' working 2nd shift, I just start college at Tiffin Univ. and decided to quit college to work instead for $12 an hour. Eventually laid off in a year.
Achievement you are most proud of, career or other
There are a few I am proud of.  I moved to Toledo, went back to college at UT got my Bachelor's Degree in Marketing while working full-time. Took me 6 years to complete but, accomplished it.  I have been married for 38 years to Paul the best saxophone player in town! Plus, proud of my relationships with my beautiful daughter Amber and my two grandchildren and my families on both sides everyone holds a special place in my heart.
Dream Trip
Anywhere where there is the ocean and a beach, loved Hawaii and would good back there again in a heartbeat.
Notable pet
I have had many notable pets especially Bernese Mountain Dogs. The two I have now are Buddy and Moose. Buddy is my 2nd  Berner rescue. He can be a little intimating towards strangers but, loves being petted once he knows you. If he wants you to acknowledge him, he will push you with his nose it is like a shove and you don't see it coming. He usually does this behind my back as he sneaks up on me. Moose wants constant attention and is stubborn. Moose has a lot of energy but not a lot of endurance. When you think you have tired him out just give him 30 min. and he is back.
What is something few know about you?
 I am a Certified Master Gardener. I also, got to play bass guitar for one song on stage with a rock and roll band called the Nu-tones at an event.
What brought you to Metroparks?
I was working full-time as a Production Manager for an advertising agency at the time, they had to downsize and I was put on part-time. Someone I worked with knew the Marketing Director at Metroparks and heard they were looking for a Production Manager. I sent in a resume and after the 2nd interview I got the job.  So happy I did, I love working here.
Your favorite park visited?
Locally it would be any of the Metroparks that are by the river. I just like the views and being near water plus I like to kayak. My favorite out of state park would be in Maui, Hawaii, Haleakala National Park. Watching the sunrise above the clouds atop Maui's highest dormant volcano which is 10,023 feet above sea level. About a 2 hour drive up a winding road but, well worth the trip.  The landscape at the top resembles the red desert of Mars. There are rock gardens and some rare plants near the summit of the volcano to lush waterfalls and streams in the parks coastal section.  Beautiful park would like to go back and observe the sunset and night sky one day.