Park People: Volunteer Rafael Antonio Rivera Gallegos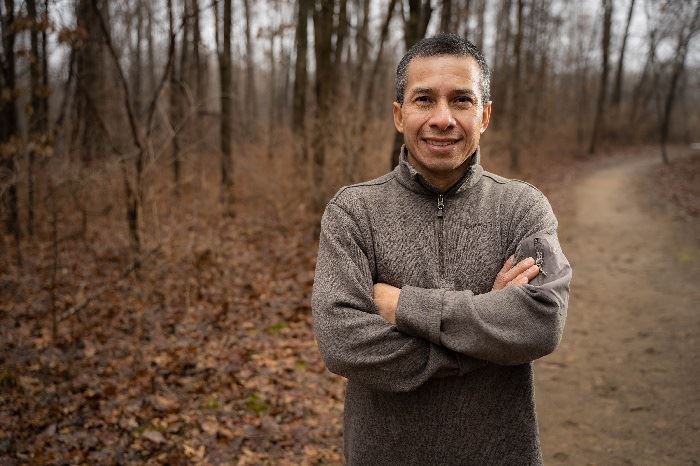 Rafael Antonio Rivera Gallegos
Metroparks Volunteer 
Hometown: Toledo 
How do you lend a hand at Metroparks?  
I started volunteering form Metroparks at TBG - anything outside or in the greenhouse. I have helped build the Singletrack Bike trail at Oak Openings, planted trees as part of the reforestation efforts at Fallen Timbers and Manhattan Marsh. And of course, I love working on stewardship projects with Julie and with everyone at Blue Creek. 
How long have you volunteered at Metroparks?
I started volunteering in 2017. 
Why do you give back to your community? 
Volunteering is just something I have done all my life, since I was very young boy in El Salvador. I not only volunteer at Metroparks but also at my local elementary school in Oak Harbor and in their library.  
Why do you volunteer at Metroparks?
I like the forest. I love the plants, the flowers. I love working together with different people. 
Your favorite park, trail or activity at Metroparks?
Oak Openings and TBG – I have made a lot of friends there and that is where I started volunteering.  
What would people be surprised to know about you?
I have made super friends volunteering.  Everyone is very nice to me and I have made a lot of friends. I like to cook! Different Food – American, Mexican, Salvadorian Italian, Chinese. All kinds of Food!  I like to play soccer and run, too.
What is the best thing (or some of the best things!) about volunteering at Metroparks?
The best thing about volunteering is reforestation, planting the trees.  And planting flowers, I like that too!  And a nature walk with Naturalist Kim High where I saw, a foxfire fungi, which is a brand new plant for me.  It glows in the dark!  I like working with the little seeds, the new seedlings, in the greenhouse at TBG which will be transplanted to the garden beds.