People, Projects, Programs Honored by Ohio Parks Industy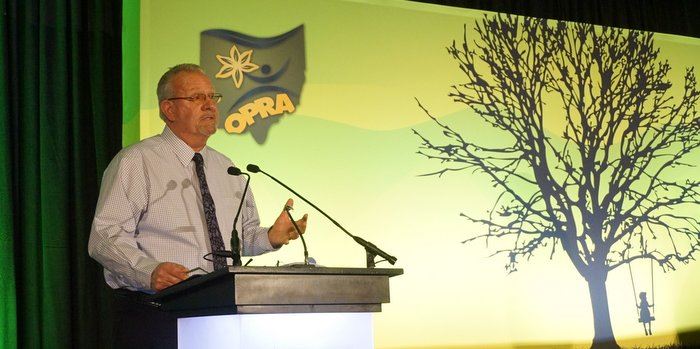 Denis Franklin, a supervisor in Metroparks Natural Resources Department, is this year's recipient of the Jack Hanna Conservation Award from the Ohio Parks and Recreation Association.
Metroparks received six awards January 30 during OPRA's annual conference and trade show, held at Kalahari Resort and Conference Center in Sandusky. Denis and a local Girl Scout volunteer were singled out for individual leadership awards.
"Franklin has a long history in the area of conservation and outdoor recreation," OPRA stated. "He is a dedicated, self-motivated leader with more than 30 years of service to the Ohio Division of Wildlife at Magee Marsh and currently in his role at Metroparks Toledo.
"Always striving for success, Franklin has served the community as a steadfast leader of wetland restoration and management, and this is exemplified most recently in his work on the Howard Marsh project."
Other career highlights, according to Denis, included restorations under his supervision at Metzger Marsh, Mallard Club and Magee Marsh state wildlife areas, when he worked for the Ohio Division of Wildlife.
After retiring as manager of Magee Marsh, Denis joined the Metroparks staff, where he has overseen the restoration of Howard Marsh, which will open to the public in April.
Metroparks Director of Natural Resources Tim Schetter was last year's recipient of the Jack Hanna Award.
Scout Earns Youth Leader Award
Family members of Ellie Leonard were at the conference to accept the Outstanding Youth Leadership Award on her behalf, as Ellie — who is away at college — appeared in a video.
Ellie was recognized for her leadership in developing the Juliette Gordon Low Trail at Westwinds Metropark, which was a service project for the Girl Scout Gold Award. It is the first Girl Scout Trail in the nation.
Kayak Programs Takes First Place
Metroparks kayaking programs took home first place in the Recreation Programs category.
Metroparks receive second place awards for:
The Chessie Circle Trail, in the Capital Improvements ($1 million to $2.5 million category). Just under 1.5 miles of the trail opened last spring in South Toledo
The ZimScuplt open-air art exhibit at Toledo Botanical Garden, in the Historical and Cultural Programs Category. The show featured sculptures from Zimbabwean artists and brought hundreds of Toledo Public School students to the Garden
And the "Get Outside Yourself" advertising campaign, in the Marketing Innovation Category
Third place awards went to:
The Trail Challenge, in the Health and Wellness category. More than 600 people are participating in the yearlong program
And the Fallen Timbers Battlefield reforestation project, in the Natural Resources and Conservation category. More than 12,000 trees were planted at the National Historical Site in Maumee