Premier Bank Gift to Support Glass City Riverwalk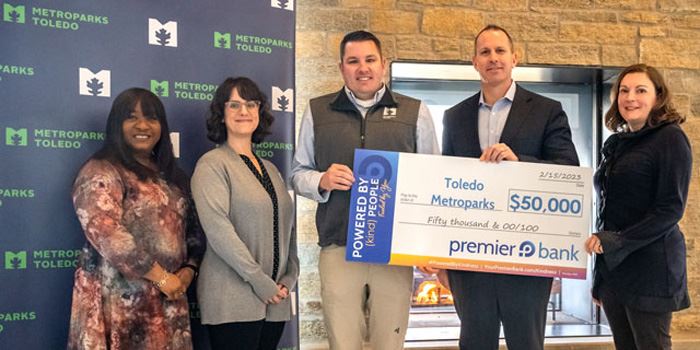 Premier Bank has pledged $50,000 to the Metroparks Toledo Foundation to support the development of Glass City Riverwalk, a 300-acre greenway that will transform the banks of the Maumee River into a regional attraction and connect neighborhoods on both sides of the water.
"We believe in the power and importance of the Glass City Riverwalk project and are proud to support the Metroparks Toledo Foundation," said Trish Gelsomino, Foundation Giving Coordinator, Premier Bank. "Working together we can make our community stronger!"
Glass City Metropark Phase 2, scheduled to open this June in east Toledo, will be the hub of Riverwalk, which will stretch five miles from the Anthony Wayne Bridge to the Veterans Glass City Skyway on both sides of the river. Construction will begin this spring on the first portions of Riverwalk from the Martin Luther King, Jr., Bridge to Fort Industry Square downtown and from the bridge to The Docks restaurant complex in International Park in east Toledo.
"Riverwalk will be the most consequential development in a generation for northwest Ohio," said Dave Zenk, executive director of Metroparks Toledo. Thanks to community-minded businesses like Premier Bank and ongoing efforts of the Metroparks Toledo Foundation, we are creating what we believe will be the best riverfront park in the nation."
A property tax levy approved by Lucas County voters in November will partially fund the development, with the balance coming from grants and fundraising.
Glass City Riverwalk is expected to become one of the region's most popular destinations, with year-round outdoor recreation opportunities, including adventure play areas and an ice skating trail called The Ribbon. The series of projects will also enhance environmental quality through the beneficial reuse of brownfields and upgrades to the shoreline, which will improve the water quality of the Maumee River and Lake Erie.
Premier's donation will receive recognition on signage at the sledding hill fire pit in Glass City Metropark.
"Riverwalk is a larger than life public-private commitment that will transform the Downtown Toledo Maumee Riverfront for future generations," said Joe Napoli, president of the Metroparks Toledo Foundation.
About Premier Bank
Premier Bank, headquartered in Youngstown Ohio, operates 75 branches and 12 loan offices in Ohio, Michigan, Indiana, Pennsylvania and West Virginia (West Virginia office operates as Home Savings Bank) and serves clients through a team of wealth professionals dedicated to each community banking branch. The holding company for Premier Bank and First Insurance Group is Premier Financial Corp. (Nasdaq: PFC), headquartered in Defiance, Ohio. First Insurance Group is a full-service insurance agency with nine offices in Ohio. For more information, visit the company's website at YourPremierBank.com