Public Hardhat Tours Available at Glass City Metropark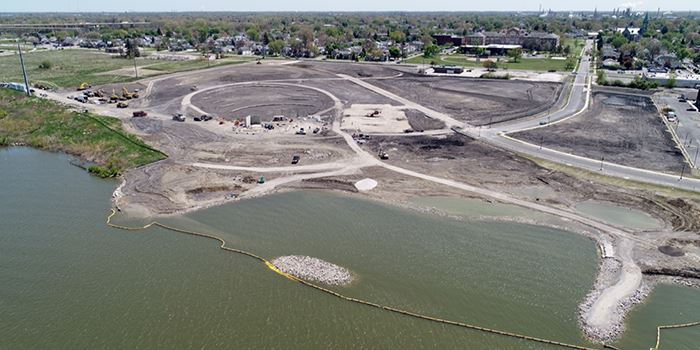 Guided hardhat tours, by reservation, are available at Glass City Metropark, now under construction on the east side of the Toledo riverfront. Participants will get an up-close look at progress on the new park and learn about plans for both sides of the Maumee River.
"Interest in the first phase of park development, and plans for Glass City Riverwalk, has been tremendous," said Dave Zenk, executive director of Metroparks Toledo. "We want to give people the opportunity to see what's happening at the construction site and learn more about the rare opportunity we have to turn our riverfront into a world class destination."
The park is currently an open construction site and is not ADA accessible. Participants should wear close-toed shoes and be prepared to walk across uneven, loose dirt and gravel. Personal protection equipment will be provided, and is required to enter the site. Groups size is limited to 10 people per time slot to accommodate social distancing.
Parking is at the National Museum of the Great Lakes, 1701 Front St. It is approximately a ¼ mile walk to the Lathrop Co. construction trailer to begin the tour.
For more information regarding the tours or if you are unable to register online, please call 419-407-9798 to speak with a member of our Customer Service department during normal business hours, Monday through Friday 9 a.m. to 5 p.m.
---
Tour Dates and Times
Must register all participants. Space is limited. Dogs are not permitted.
Thursday, August 13
3 to 4 p.m. [Register]
4 to 5 p.m. [Register]
Saturday, August 29
9 to 10 a.m. [Register]
10 to 11 a.m. [Register]
Tuesday, September 1
3 to 4 p.m. [Register]
4 to 5 p.m. [Register]
Saturday, September 12
9 to 10 a.m. [Register]
10 to 11 a.m. [Register]
Thursday, September 24
3 to 4 p.m. [Register]
4 to 5 p.m. [Register]
Tuesday, October 6
9 to 10 a.m. [Register]
10 to 11 a.m. [Register]
Thursday, October 15
3 to 4 p.m. [Register]
4 to 5 p.m. [Register]
---
Important Step Forward
Phase 1 of Glass City, which will be completed this fall, is "an important step to the revitalization of the riverfront and the East Toledo Community," said District 3 Councilwoman Theresa Gadus.
"Four years ago, I was one of many people that gathered for community input," Councilwoman Gadus said. "There were so many great, diverse ideas and desires the community wanted to see. The Metropark had a large order to fill and I was pleasantly blown away that their plan incorporated everything our community desired and more.
"As Phase one is closer to completion, I believe that this will be a catalyst for carrying this energy of revitalization throughout the rest of East Toledo. The Metroparks have been an amazing partner and I do believe this will be a destination for not only East Toledoans, but for all of Northwest Ohio and Southeast Michigan."
Phase 1 will include:
A 3,500-square-foot pavilion with restrooms, a concession window and green roof. The building will accommodate 150 people.
Rooftop plaza space
An event lawn that will accommodates 5,000 people for special events
A sledding hill
Aggregate and asphalt walking paths
Water access for fishing, canoeing/kayaking
Shoreline restoration
Reforestation with more than 2,000 trees as well as prairie plants
Stormwater wetlands and bioswales
A boardwalk over water with seating
The realignment of Riverside Drive
A 70-vehicle parking lot
A new curb cut for park access from E. Broadway Street
A separate contract is expected to be awarded late this year for construction of a bike and pedestrian bridge over Main Street to connect Glass City with International Park. The bridge will be build next spring.