Ranger Dept. Honored for Pursuit of Excellence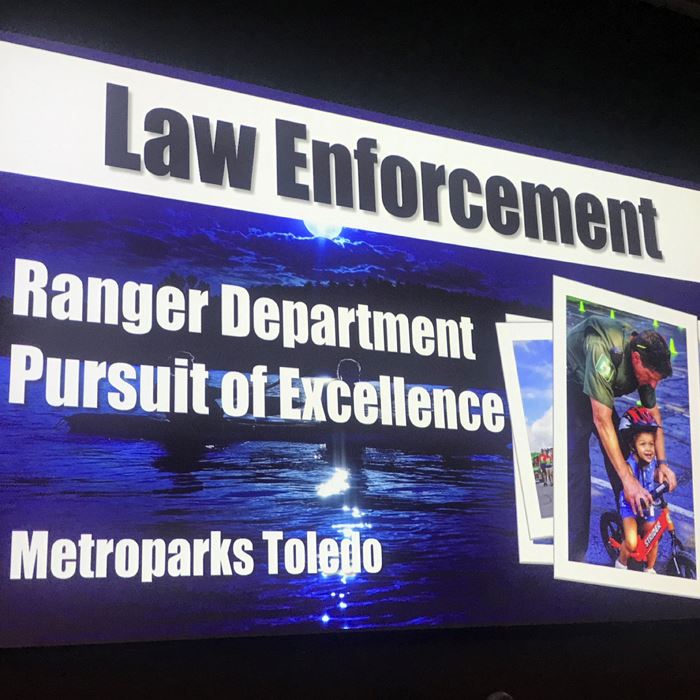 The Metroparks Toledo Ranger Department deserves to take a bow for maintaining low crime rates and high standards even with a record 5.5 million visits to the Metroparks last year. Instead, the Rangers looked for ways to get better. Last night, our trade association honored them for their work.
The department's Pursuit of Excellence initiative looked at organizational structure, proficiency standards, training, community outreach and more to take the department "to a higher level of excellence," according to Chief of Operations Joe Fausnaugh.
The initiative won a first place award in the Law Enforcement category of the Ohio Parks and Recreation Association's annual Awards of Excellence.
An annual event, Wintering the Towpath, and a Forest Therapy program also received awards in the special events and health and wellness program categories.
National Recognition
An inclusive Outdoor Expo held last summer at Middlegrounds was awarded a Project Excellence Award recently from the Society of Outdoor Recreation Professionals.
--
Photo, below: Deputy Chief Brad Navarre and Rangers Shannon Mann and Greg Mahlman were on stage at a banquet in Sandusky to accept the award. They are bookended by OPRA executive director Woody Woodward and board president Tiphanie Howard.