Ranger Honored for Saving Woman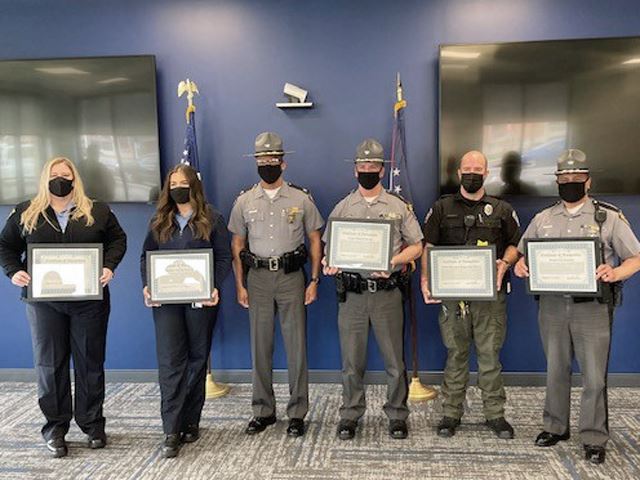 Metroparks Toledo Ranger Kyle Robison received recognition this week from the Ohio State Highway Patrol for his part in saving the life of a woman in December at Providence Metropark.
Ranger Robison, along with Lucas County Sheriff's deputies and a K9 unit from the State Patrol, responded to a call about a missing woman who family members feared was suicidal. OSP dispatchers were able to identify the woman's approximate location by "pinging" her cell phone.
Using an ATV driven by Becky Braley, a park technician at Providence, the officers searched the Orange Trail, where they found the woman in the woods lying face down. When Ranger Robison and Trooper Eric Gonzalez knelt down beside her and rolled her over, they found that she was conscious and had a loaded handgun pointed to her head. They quickly grabbed her arms, pinned the firearm down, and disarmed her. No shots were fired, and no one was injured.
"Thanks to the quick response to all involved, this young woman was found alive and she received the help she needed," said Brad Navarre, interim chief of rangers. "A special thanks to Becky Braley, the dispatchers, firefighters, deputies, troopers and rangers who were involved in helping the woman and her family."
The troopers and dispatchers, along with Ranger Robison, were honored by Major Chuck Jones, who commands the OSP's Office of Training, Recruitment and Diversity.
__
Pictured: OSP dispatchers Tara Odom and Hanah Hamizedah; Major Chuck Jones; and Trooper Shane Borton, Ranger Robison and Trooper Gonzalez.