Slightly Spooking, a Little Kooky - it's the Tombstone Bike Tour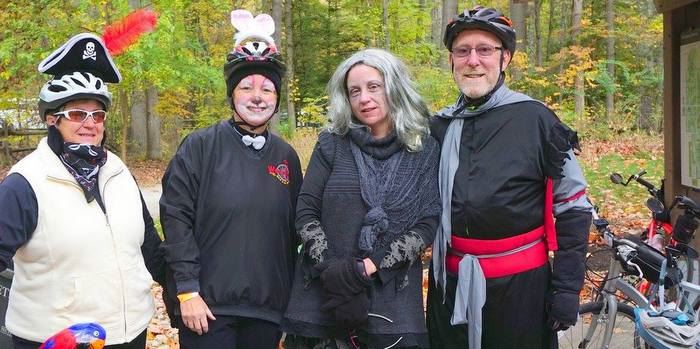 Imagine "haunting" the countryside on two wheels in your Halloween costume (and bike helmet). Pass 11 cemeteries, stop for lunch at beautiful Oak Openings Preserve and fuel up with some warm cider at MacQueens Orchard on the return trip.
It's the 39th annual Tombstone Bicycle Tour, Saturday, October 22, sponsored by Maumee Valley Adventurers and Metroparks.
Register between 10:30 and noon at Secor Metropark for a 38-mile ride. The lunch and cider stop are included in the price, along with SAG service (bike and vehicle assistance to ensure your ride is safe and problem free).
The Family Haunted Bike Ride, the same day, is for families with young children. Ride 3-4 miles on park trails inside Oak Openings Preserve, starting at the Mallard Lake Area. Sign up for 11 a.m. or 12:30 rides. Participants invited to lunch with the Tombstone Riders at the Buehner Center.
Start picking out your bike-safe Halloween costume and click on one of the links below for details or to register for this slightly spooking Toledo tradition.
Register here for the Tombstone Tour