Step-by-Step, Following the Blue Blazes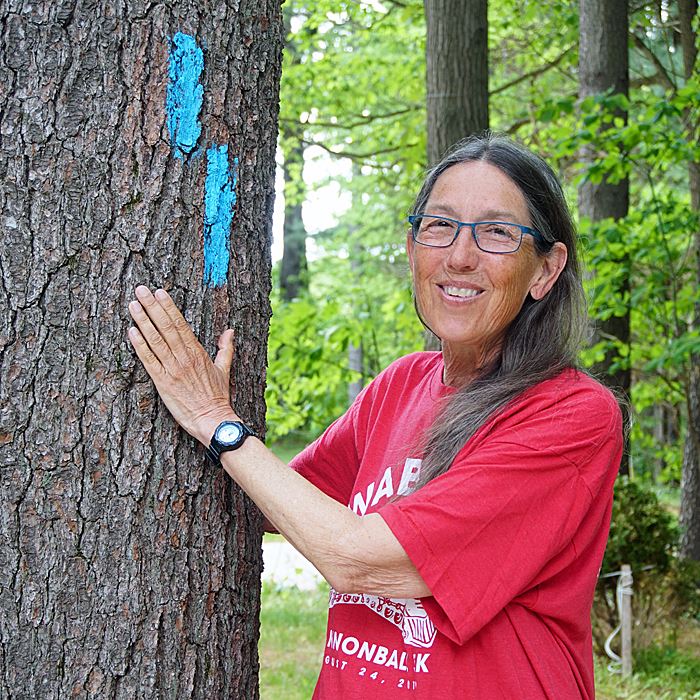 By Scott Carpenter
Mary McKinley has no problem achieving her 10,000 steps a day. In her backpacking career, she figures she has logged more than 10,000 miles, including the five-week trek that brought her to Swanton in mid-May.
"You just do it," she said while resting at the home of a "trail angel" near Oak Openings Preserve. "You put one foot in front of the other and follow the blue blazes."
The blazes Mary is following are markings for the North Country Trail, the longest of the 11 National Scenic Trails, which passes through northwest Ohio on its 4,700-mile route from North Dakota to Vermont.
The NCT traverses through 160 federal, state and local public lands, including 10 National Forests, more than 100 state parks, forests and game areas, and locally, two Metroparks.
It overlays the southwest portion of the Hiking Trail at Oak Openings, part of the Wabash Cannonball Trail-South Fork and, after a recent re-route, through Farnsworth along the Towpath Trail. It also shares a portion of the Buckeye Trail, a nearly 1,400-mile marked route around Ohio.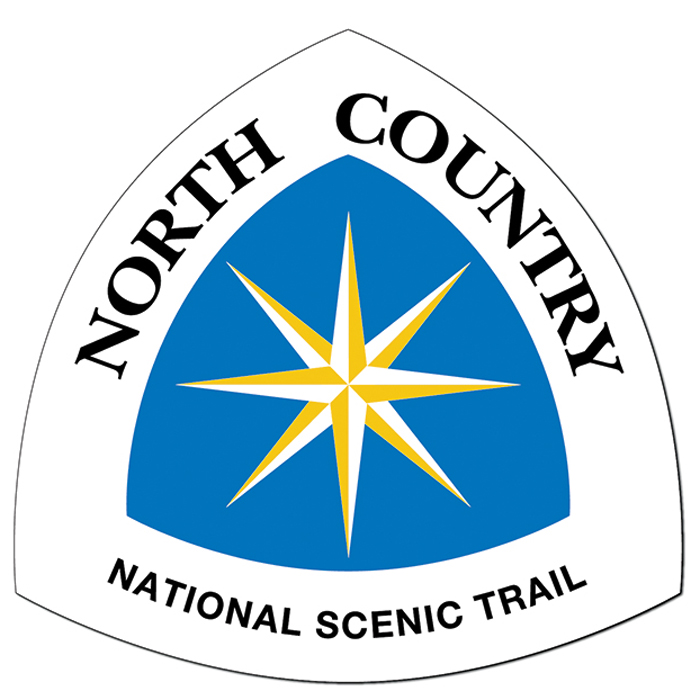 Mary, a retired university instructor who is known to fellow backpackers by her trail name, "Denali," was the second thru-hiker to arrive in the area in May, said Marianne Duvendack, an NTC and Wabash Cannonball Trail volunteer. She is also a trail angel, offering assistance including lodging to hikers passing through.
Mary is hiking the North Country in sections, picking up April 17 where she left off last year, in Petoskey, MI. She plans to end this section in Dayton on a target date this month to catch a flight home to the Florida panhandle. Two weeks later, she'll be back on the trail, but a different trail that she is also hiking in sections.
Mary has already completed the Appalachian, Florida and Natchez Trace National Scenic Trails. She is now section hiking both the NCT and Continental Divide trails.
"I like the National Scenic Trails because I figure they are national trails for a reason," she said.
Last year, Mary started the North Country trek in eastern Minnesota and hiked 1,100 miles to Michigan's northern lower peninsula. "I started in the middle," she laughed. Eventually, she said she will go back to the trail's western terminus in west-central North Dakota and complete the section across Minnesota. She estimates it will take her at least another year to complete the daunting trail, which is more than twice the length of the famed Appalachian Trail (which Mary completed solo in just over a year, finishing in 2007).
"You have to hike your own hike," she said, adding that she never reads accounts of other hikers' experiences prior to starting an excursion because she wants to discover the trail for herself. "It doesn't matter if it took one year or 20 years to anyone but you. To me, not a competitive sport."
On her journeys, Mary relies on helpers like Marianne, but typically travels alone, and will pitch a tent if she needs to. The previous night, she slept in a building owned by the Northwest Ohio Rails-to-Trails Association near Delta.
"Some long-distance hikers will plan out everything," she said. "I don't know where I'm going to stay every night or where my meals are going to come from, but I find I get just what I need."
Trail life takes its toll, mentally and emotionally, Mary said. "And you miss out on things" being gone for a minimum of three months per year. When she is home in winter, she helps care for the Florida National Scenic Trail and assists other hikers.
But, she is always anxious to get back out, follow the blue blazes and explore the American countryside step-by-step.
"It's a walking meditation," she said. "It's a spiritual journey, always."