Student, Teacher Meet Up on the Appalachian Trail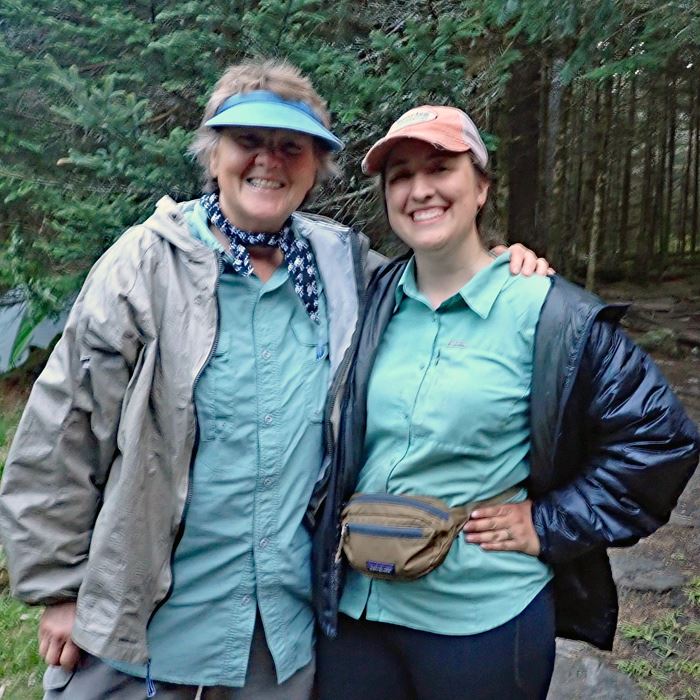 Minda Wott Heindel's trip of a lifetime began at Metroparks and recently included a meetup on the famed Appalachian Trail with one of the instructors who helped prepare her for the 2,200-mile journey.
In 2020, Minda traveled from her home in Fort Wayne to participate in her first overnight hike at Oak Openings.
"I learned about thru-hiking back in 2016 and it was always something on my mind, but I had to learn about backpacking, so I looked around for programs and that's when I found Metroparks," she said. "I didn't have the confidence to do it on my own, but I really wanted to do it. It's so intimidating, but (the Metroparks program) makes it so approachable and easy for beginners to get started."
A thru-hike is an end-to-end backpacking trip on a long-distance trail.
This spring, more than 200 miles into her first solo thru-hike attempt, Minda crossed paths with Kim Kaseman, one of the outdoor skills instructors she met at Metroparks.
Kim, who recently retired from the Programs Department, was on her own 65-mile hike, mostly in Georgia, when she and Minda met at the Mt. Collins Shelter near Gatlinburg, TN, in Great Smoky Mountains National Park.
"I have had sporadic contact with Minda since retiring and was thrilled when she contacted me a few months ago to tell me she was planning a solo thru-hike," Kim said."
Minda began her adventure April 15 in northern Georgia at Springer Mountain in the Chattahoochee National Forest, which is the southern terminus for the Appalachian Trail. Her husband, Philip, accompanied her for the first week of her hike. She continued on alone, trekking 690 miles in two and one-half months. When she reached Virginia, she had to take a break from the trail to return home and care for her seriously ill dog (which is now recovering).
"(Kim) has really gone out of her way to stay in contact with me and keep me motivated," Minda said. "Meeting up with her on the trail was a big motivator."
Kim's own trail experience began in 2010, and since then she has hiked 400 miles of the A.T. in parts of all 14 states it traverses.
"Georgia is the only state in which I've completed all of the miles," Kim said. "I hope to finish the miles in West Virginia and Maryland and have bragging rights to three states completed.
"It is always a fantastic adventure, and I've met folks from all over the world - Germany, Australia, Canada, Denmark," Kim continued. "All agree that there is a special aura and allure to the A.T."
Minda plans to return to the trail as soon as possible. She said it is still considered a thru-hike if she can complete the entire trail in one year. "I don't know if that will happen, she said, "so it may turn into a session hike."
A session hike is when a hiker completes the trail in sections, and a long session of two weeks or more, like Minda just finished, is referred to as a "lash."
"Every day on the trail is a rollercoaster emotionally," Minda said. "It's so hard, but it's so rewarding."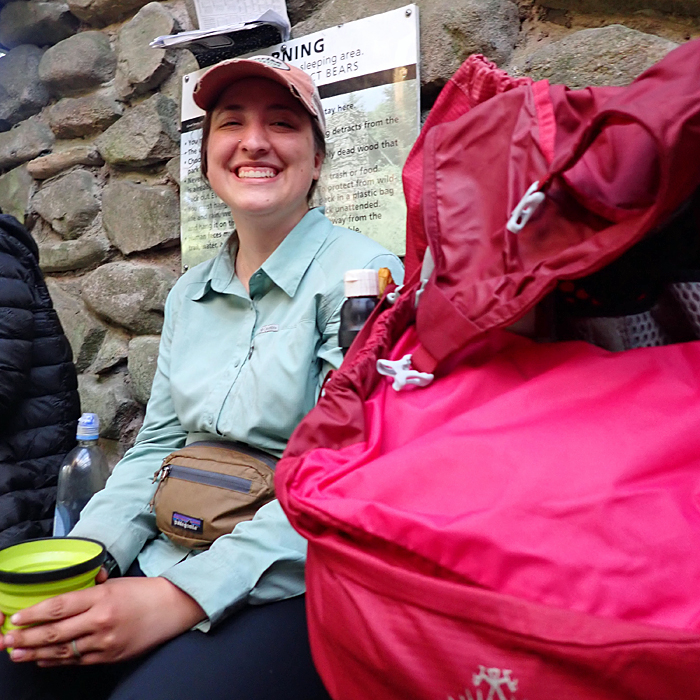 --
Photos - Top: Kim, left, and Minda at their meetup in Tennessee's Great Smoky Mountain National Park. Above: Minda on a break from the trail
Plan Your Adventure
If you have the bug to strike out on an adventure, Metroparks has several trips planned this year.