Thank You For Your Commitment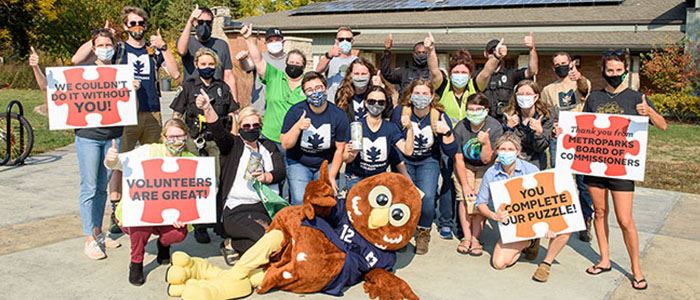 Thank you for your commitment to our Metroparks!
We've had a wonderful time during April (National Volunteer Month) introducing you to some of the thousands of people we're lucky to call Metroparks volunteers. As you've seen on our blog and social media pages, our volunteers participate in every aspect of our Metroparks, from keeping our grounds and gardens in good shape to showing guests around the Manor House at Wildwood Preserve. From removing wetlands invasive species to serving as members of the Volunteer Trail Patrol. From leading educational programs to serving on Scouts or Friends groups. We couldn't do the work we do without the support and experience of our volunteers!
Whether you're a teen or retired, or anything in between, there's a place for you as a Metroparks volunteer. Our volunteer positions give you the choice of being outside in nature, planting and nurturing flowers and plants, doing important conservation work, and meeting the public. Our volunteers are integral to creating the environment you've come to expect from every Metropark you visit – to keep these places healthy and beautiful for you, for us, forever.
Thank you to our 3,500 annual volunteers who contribute more than 50,000 hours every year. We always like to say that volunteering outdoors, and especially at the Metroparks, is the happiest thing to do.
#foryouforusforever #getoutsideyouself #nationalvolunteermonth