The Early Years: Remembering How We Got Here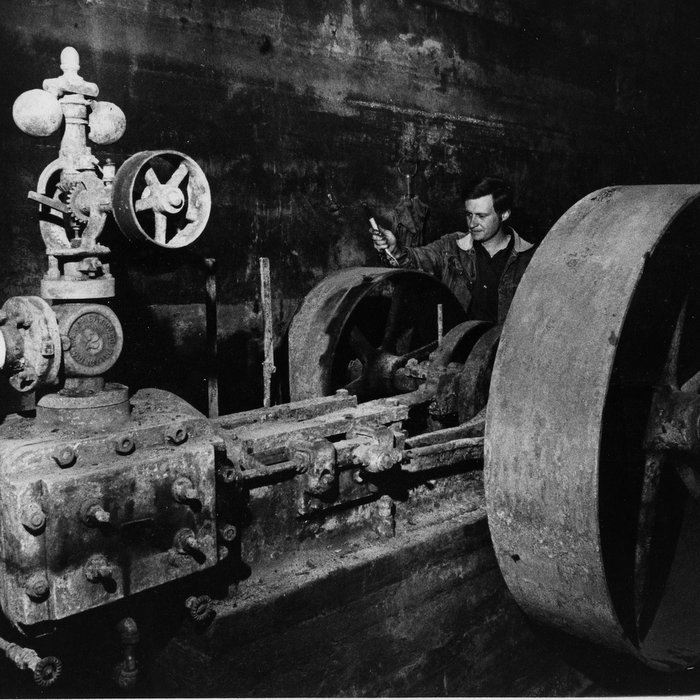 Everyone wore more than one hat in the early years of Metroparks
By Art Weber
The silver-gray pick-up truck, which served the dual-purposes of maintenance and ranger patrols, bounced slowly down a rugged two-track service/fire lane to a backwoods trail bridge in what is now Oak Openings Preserve Metropark.
The bridge's stacked stone piers, timber beams and planking were beautiful in looks and design. Like so many of the early Metroparks Toledo structures, it was the work of the Depression-era WPA program, which used Federal money to put out-of-work craftsmen to work on public projects.
Like so many of its employees, the driver had worked for Metroparks for years. He'd grown up on the family farm – land he still owned and farmed in his off-time – where he learned skills that ranged from operating and repairing heavy equipment to plumbing, electrical, and carpentry. He called on all of those acquired skills in his role at Metroparks.
The pick-up slowed and came to a stop just short of the bridge. Before the driver jumped out he grabbed a prybar and a claw hammer, both showing the wear and tear of years of hard use.
The job at hand was to pull and replace a couple of rotted planks, taking care to save what he could of both the old planks and spikes. From the back of the truck he pulled solid replacement boards salvaged from another project and cut to length with an old hand saw, which he'd just sharpened himself in the maintenance shop. Before walking back onto the bridge, he took the hammer in hand again and pounded the old spikes straight so they could be used on the new planks. Never mind that the spikes were rusty and dulled, they could be reused so they were.
Everything had to be versatile, multi-purpose, recyclable
That's the way it was at Metroparks in the years between their birth in 1928 and the passage of their first levy in November 1971. Everything had to be versatile, multi-purpose, recyclable, economical, justifiable. Everyone on the small staff wore more than one hat. There was no such thing as a ranger who didn't also do maintenance work, or a park manager who wasn't a maintenance worker and a ranger, as well.
Through those early years the only somewhat reliable sources of income were proceeds from a parking lot in Downtown Toledo courtesy of the Arthur Secor Trust Fund (which, under terms of the bequest, was restricted to use at Secor Metropark), gifts through the Knight Trust, and. the largest source, an allocation from the Lucas Commissioners that they did out of a generous community spirit rather than responsibility. The county allocation varied from year-to-year, declining as their expenses mounted, until in the early 1970s they advised the Metropark Board that they couldn't do it anymore.
It's easy to be dismissive of those early years, to forget those who steered Metroparks Toledo through those tough times of perceived agency shortcomings with limited growth, programming, and staffing.
We need to talk about that -- a good talk. A look back to see where Metroparks came from before boldly going into the future, fueled, in part, by the 1.4-mill renewal levy voters approved in November. 
We need to talk about a whole host of leaders and staffers who made great things happen in spite of obstacles, not the least of which was the Great Depression. They constantly made lemonade out of lemons, got amazing things done with very little.
Though they didn't have a lot of resources, they were resourceful. They were  imaginative, practical, creative, talented, and, perhaps most of all, dedicated. Pay was low, but the rewards could be great. 
One of the first Board members, Waterville orchardist and state senator W.W. Farnsworth, got things started by launching landmark legislation that made it possible for Ohio's canal lands, which were being abandoned at the time, to be converted to parkland if they weren't required for highway purposes. Those canal lands formed the backbone for today's Farnsworth, Bend View, Providence, and Side Cut Metroparks.
Though they didn't have a lot of resources, they were resourceful. They were  imaginative, practical, creative, talented, and, perhaps most of all, dedicated. Pay was low, but the rewards could be great
They figured out how to protect a substantial chunk of what is now considered one of the rarest habitats on earth, the Oak Openings. Long-time Metropark Director Max Shepherst joined with the all-time dean of Toledo Area naturalists, Lou Campbell, to champion the preservation of those Oak Openings lands.
When they fell short on funds to acquire important lands, even lands that were, excuse the phrase, dirt cheap, they turned to people like W.W. Knight, president of the Board of Park Commissioners. While he was notably shy on taking credit for his philanthropic role, stories and the evidence suggest that he frequently donated the funds to make things happen.
Lou Campbell, who spent his spare time voluntarily scouring Lucas County for natural treasures, described the first time he saw the Gale Run Valley in Oak Openings as the most beautiful place he ever saw. He returned with W.W. Knight. who was also impressed, and somehow, not long after that visit the cash-strapped Park District was somehow able to acquire the area.
Preserving today's Pearson Metropark was a true community effort often compared to the preservation of Wildwood Preserve. Funds to acquire Pearson were famously raised in all kinds of efforts and events but, in the end, an anonymous donor stepped forward and made up the substantial shortfall of necessary funds. W.W. Knight is likely that anonymous donor.
Secor Metropark is only there because the family of Arthur Secor donated a downtown parking area with the stipulation that the proceeds from that lot be used to honor Arthur Secor's love of the outdoors with the creation of a new park.
Only four men served as director during the first 70 years
Only four men served as director during those 70-plus years – W.W. Farnsworth for a brief period, Max Shepherst, and Robert Metz. Jean Ward, who came to Metroparks as Bob Metz's right-hand man, followed Bob as director.
Board members have a legacy of long service, too. Ditto for those in field positions.
So, there's been a continuity of dedication, passion for the natural areas mission, and accomplishment. A long record of sustained excellence.
Today's Metropark Board, director and staff honor the standards set by those who have gone before, taking the Park District to new and better programs, innovations, and even new Metroparks.
Hopefully, we'll never forget that It all started with a small corps of dedicated employees who kept the Metroparks and their mission alive, even when the future was uncertain.
Louie, Estel, Jim, Chris, Ed, Seraphin, Bob, Chuck, John, Tim, Buster, Clarence, Don are among those to be remembered before we forge ahead. They're the ones who kept things going, straightening nails and scrounging materials, using their problem-solving skills to keep the parks moving forward, even if it wasn't the pace we know today.
They laid a solid foundation for everything we see today in what is certainly one of our region's greatest treasures.
Photo
A Metroparks employee in the early 1970s examines an old steam engine in the basement of a former laundry in East Toledo that was being demolished. The engine was salvaged for use at the Isaac Ludwig Mill at Providence Metropark.
---
Art Weber has been on the staff at Metroparks for 45 years. For the first 30 years, he was public information manager. Currently the park district's nature photographer, Art's images are well known to park visitors. He is also a columnist for the Maumee Mirror, where this story first appeared.