The Fascinating Nature and History of Blue Creek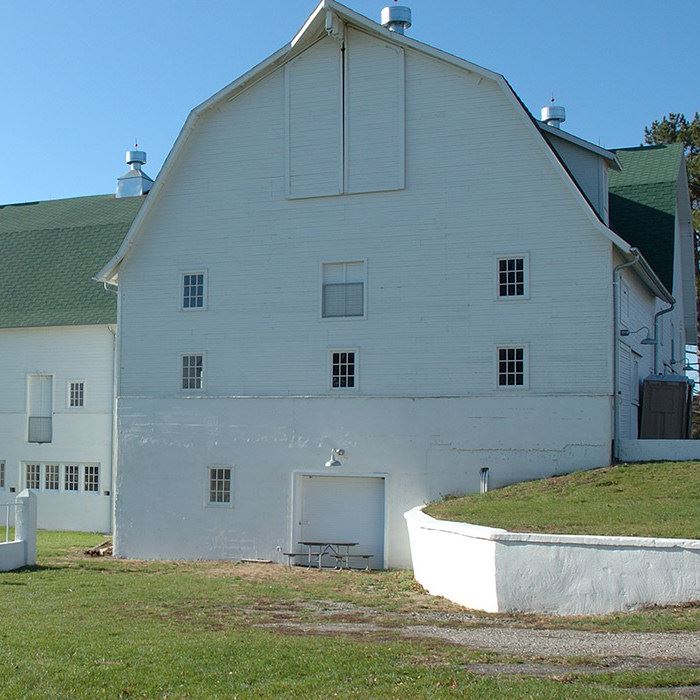 Blue Creek Metropark is a large, diverse – and fascinating – collection of natural and historical gems.
Green space and natural areas include two quarries, several recreation fields, a woodland, sustainable gardens, restored wetlands and tall grass prairies, a limestone glade, Metroparks native plant nursery and a wildlife rehabilitation center.
The interesting history of the property, which was once a prison farm, is evident in the large barn and outbuildings. Other parts of the park are devoted to recreational fields operated by the Anthony Wayne Youth Foundation.
Exposed Devonian age limestone (350-450 million years old) at this Metropark is rich with fossils of sea creatures such as Brachiopods, Horned coral, Trilobites and Crinoids (sea lilies). You can see them best near the large, Nona France Quarry, and also near the smaller quarry pond and in some of the walls and stone barns.
Near the quarries are some of the best examples of glacial striations in northwest Ohio. These 'scratches' in the bedrock were created about 12,000 years ago, when glaciers pushed harder granite over the local limestone bedrock.
Two waterways, Mosquito Creek and Blue Creek, run through the property.
Two constructed wetlands help create more well-balanced ecosystems. One incorporates dikes, outlets, valves and measuring apparatus to reduce sediment, maximize oxygen and maintain the right water for deterring nonnative species.
Near the wetland is a ditch that was recently restored using a two-stage approach that includes land benches, or 'floodplains,' to slow water flow and improve ecology within the channel.
In the early 1800s, this area was part of a reservation for Native American tribes such as Chippewa and Ottawa, but by the 1840s, most of it became privately owned farmland.
In 1900s, part of this Metropark was the site of the Toledo House of Corrections, a 310 acre-self-sustaining prison more commonly known as the Workhouse. Purchased in1918 by the City of Toledo, it operated until 1991. During operation, rock was quarried, stone walls and barns constructed, cows and hogs raised, a tree nursery maintained and crops such as tobacco, corn, wheat, hay and oats grown. In 2000, Lucas County and Metroparks purchased the Toledo workhouse site.
The former Workhouse complex included a jail (removed in 2014), a warden's house, an impressive and historic 1930 barn, an 8-foot stone wall enclosure, several small stone barns, and a more recent jail annex that now serves as Metroparks native plant nursery headquarters.
Metroparks native plant nursery operates out of Blue Creek Metropark. Yearly thousands of native plants of over 50 species and a dozen Ohio rare species are propagated, harvested and used to enhance native biodiversity throughout Metroparks at large. A ton to 2,500 lbs of seed are harvested annually at one of the largest public operations of its kind in the Eastern U.S.
Partners
Nature's Nursery uses the former warden's house as its headquarters, and also maintains a large raptor rehabilitation flight cage near the paved parking lot. The Soil and Water Conservation District maintains demonstration farm fields and gardens on some of property.
Substantial acreage on the north side of Blue Creek Metropark is leased to the Village of Whitehouse. This land includes the public library property, the large Nona France Quarry and the recreation complex operated by the Anthony Wayne Youth Foundation.
Plant Life
Plant life at this Metropark includes a wide variety of wetland, prairie and fallow farm field species. One unique ecosystem that occurs here is called a limestone glade. Its consistency of sandy, shallow soil on top of limestone bedrock supports many rare and unusual plants. The glade has been enhanced significantly through invasive species control, and is home to at least seven plants that are state-listed as rare in Ohio.