Trail Talk: Everyone Can Enjoy Mixed-use Trails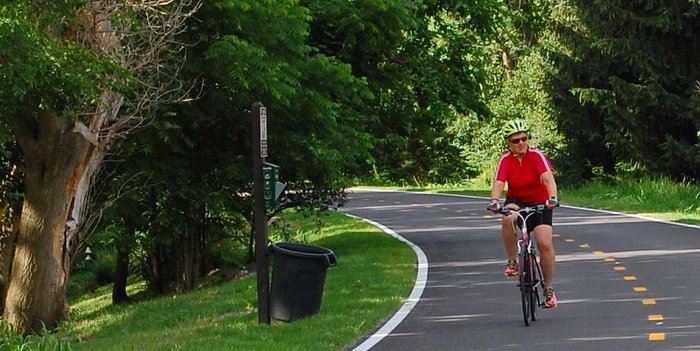 TRAIL TALK
Many of the Metroparks trails are multi-use, meaning walkers, runners, cyclists and others (such as people pushing baby strollers, dog walkers, skaters) share the same trail. These include the University/Parks, Towpath, Wabash Cannonball, Chessie Circle and Oregon trails, as well as the all-purpose trails in many parks.
On all trails, ALL users should keep to the right, except to pass. [It is different from the rule on the road, where cyclists should travel the same direction as cars and pedestrians should walk facing traffic.]
Cyclists, because they are faster and more agile, should always give way to other users.
Horses have the right of way on the small stretch of the Wabash Cannonball Trail that they share with other users. Please be extra careful around horses, which can be startled by faster-moving bicycles and runners.
Dog walkers should abide by the park rules and keep their pets on leashes no longer than 6 feet. On mixed-use trials, keep them even closer to avoid interfering with people passing on foot or wheels.
Cyclists are not permitted on walking trails, which are too narrow for bikes and subject to erosion.
Successful trail etiquette in any form boils down to a couple of simple things: Respecting other trail users' right to be on the trail with you, and demonstrating a level of courtesy to allow them to enjoy their trail experience as much as you do. 
Metroparks provides a wide variety of choices so all users can enjoy their time in nature safely.
Join the Trail Challenge. Set a goal - 50, 100 or 150 miles - and hit the trails!