Try-its and Classes Will Get You on the Water this Summer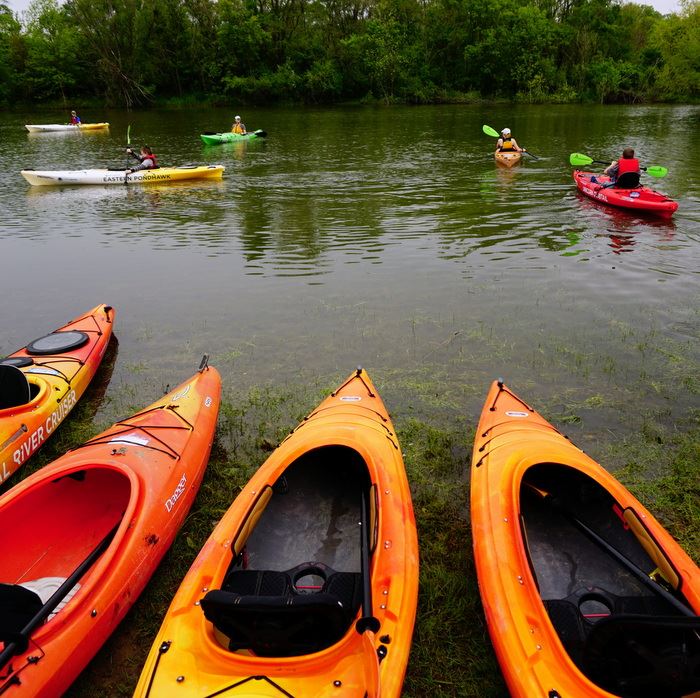 By Amanda Howard
Drift on the serene waters of Wiregrass Lake to a serenade of cricket song under a full moon. Explore the secluded inlets and channels surrounding Missionary Island on the Maumee River. Laugh with friends and family as you master the art of stand up paddleboarding.
It's paddling season again in northwest Ohio, and time to get out on the water and explore the diverse and beautiful waters that Toledo has to offer.
Metroparks offers many paddling opportunities to relax, challenge or thrill you on the water, but with so many options, how do you choose? Below, learn about the different options we offer and how our programs are classified so you can pick the best ones to meet your needs.
 RELATED: Paddling FAQs and Participant Checklist
Paddling Opportunities: Explore your Metroparks by canoe, kayak or stand up paddleboard (SUP). Which program is right for you?
Find the following programs in the Outdoor Skills section of the Metroparks Calendar.
Try-it
These one-hour programs give you the very basics. Give it a try to see if you want to sign up for a class or eco-tour. Perfect for beginners and first time paddlers.
Classes
Work with instructors certified by the American Canoe Association to learn everything you need to know to plan paddling trips on your own.  These programs cover material that will be taught on the water as well as in a classroom-type setting.
Quickstart: Beginner class in a short time frame.  You'll walk away with basic paddling skills related to safety, body position, basic strokes and hand placement on paddle. Good for beginners and first time paddlers. Canoe and kayak Quickstart sessions are 3 hours; 2 hours for SUP.
101 Series: These classes include approximately 1.5 to 2.5 hours of classroom-based instruction covering paddling safety.  The on-water portion will include all basic stroke maneuvers and some rescue techniques. Beginner friendly, but not recommended for first time paddlers. Kayaking and Canoeing 101 is an 8 hour class; SUP 101 is 4 hours. 
201 Series: These advanced courses include approximately 2-3 hours of classroom instruction that will take you through the basics of planning your own trip. On the water, instructors will cover advanced paddling stroke maneuvers and you will practice many different rescue techniques.  It is highly recommended that you take the 101 course before taking the 201 course. Not recommended for beginners. Kayaking and canoeing 201 is a 10 hour class. Kayaking 201 involves paddling with a kayak spray skirt.
Eco-Tours
Experience the natural beauty of the Maumee River, Swan Creek and other local waters with a Metroparks naturalist. Paddle at your own pace with family and friends while viewing incredible scenery and wildlife. Beginner friendly.
Find the program that's the best fit for you. We'd love to see you on the water in the Metroparks this summer.
Metroparks kayak programs are partially funded by a grant from the Ohio Department of Natural Resources Division of Watercraft.
Amanda Howard is an Outdoor Skills Specialist with Metroparks