Butterfly Monitoring In The Metroparks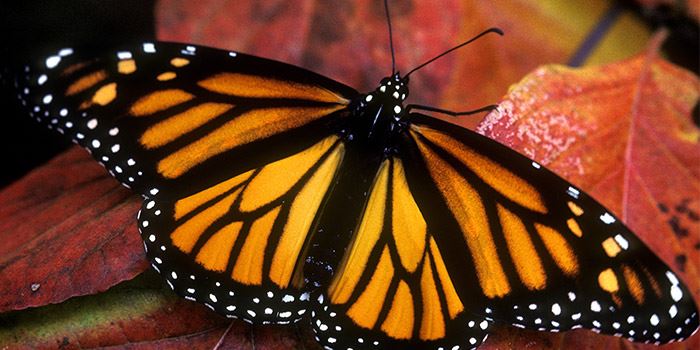 Butterfly monitoring in the Metroparks is facilitated in association with a long-term, (20 year) statewide study sponsored by Ohio Division of Wildlife, Ohio Lepidopterists, Cleveland Museum of Natural History and Ohio Biological Survey.
The chosen transect method of monitoring was first developed at Monks Wood Experimental Station in Great Britain with details published by Pollard, 1991 and Pollard and Yates, 1993. The transects are fixed routes chosen to represent the locality as a whole. Sections within the transect are divided according to habitat, not distance. The transects are walked once weekly between April 1 and September 30 with butterfly species listed on the recording form. Only butterflies that come within 15 feet of the recorders may be counted. Other information includes start and end times and temperatures, percent of cloud cover, wind direction and wind speed, flowers blooming, larval source plants and field notes. Weather conditions must fall within stated parameters.
Rationale includes obtaining baseline data throughout the state, fluctuations in numbers due to short-term and long-term conditions, changes related to habitat progression and land management, changes in range, information about migratory and non-native species as well as the general health of Ohio's butterflies.
The main purpose of this project is to assess the known populations of rare/heritage species of butterflies, identify new occurrences of rare/heritage species, and monitor ecosystem conditions to determine need for restoration treatments (regionally or within parks). Long term butterfly data can provide a wealth of information.
The Oak Openings Region of Lucas County has always been rich in species numbers of butterflies. In 2009, an Ohio species of concern, dusted skipper Atrytonopsis hianna was reported from Wildwood Preserve.
In 2010, butterfly species and population numbers from various habitats in the Oak Openings Region had large increases. Data gathered weekly from the established transects and regular visits to targeted habitats revealed not only high population numbers, but also several unexpected species. Several butterflies, including some state listed species and irregular migrants, and those considered "uncommon" in past seasons were viewed more frequently last season.
Some noteworthy examples of 2010 finds include, pipevine swallowtail (Battus philenor), little yellow sulphur (Eurema lisa), harvester (Feniseca tarquinius), oak hairstreak (Satyrium favonius ontario), Edward's hairstreak (Satyrium edwards), and variegated fritillary (Euptoieta claudia).