Celebrating Women in History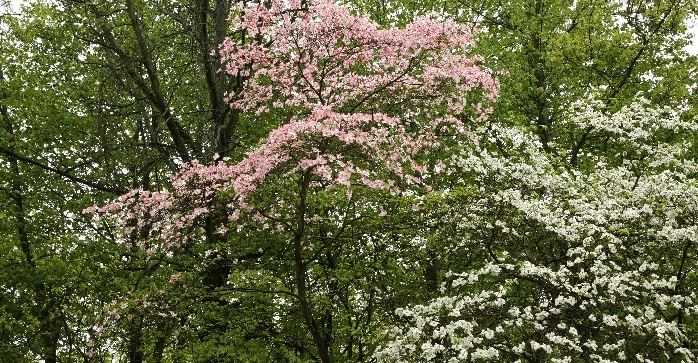 As we celebrate Women's History month, Metroparks Toledo is proud to recognize the legacy women have had on our industry. From local naturalists to the most notable scientists, women have been impacting the environmental field for over a century. Here are just few that come to mind: 
Grace Berlin (1897 - 1982): Born in Monclova Ohio and initially interested in farming, Grace Berlin changed her professional focus at an early age to become known as a local trailblazer in ecology and ornithology. One of the first women in Ohio to earn an ecology degree, she graduated in 1923 from Oberlin College, where some of her original field notes are still archived. A naturalist and historian, she belonged to many history societies and held offices in the Ohio Audubon Society, National Audubon Society and Toledo Naturalists' Association. Her phone number was even listed in the directory of a 1966 TNA yearbook!  Along with the likes of Annie Oakley and Lillian Gish, Grace Berlin was inducted into the Ohio Women's Hall of Fame in 1980. 
Jane Forsyth (1921-2006): A dynamic scientist and educator, Jane Forsyth graduated from Smith College in 1943 and embarked on a long and successful career that included working for many different colleges and institutions, including the Ohio Geographical Society, the Ohio Department of Natural Resources, and Bowling Green State University. From 1955 to 1965, Forsyth worked at the ODNR Division of Geological Survey where she mapped and studied all aspects of Ohio glacial geology and co-authored the first Glacial Map of Ohio, published in 1961. Following her work at the Survey, Forsyth became the first female geology professor at Bowling Green State University, despite the lack of opportunities given to female academics during this time. It is fitting that a full-fee scholarship at Bowling Green State University honors her legacy. As one of Ohio's preeminent scientists, she made important discoveries about Ohio Pleistocene geology and authored over 100 scientific papers, popular articles, and abstracts.  For this work, Jane Forsyth is known as "the Queen of the Pleistocene."
E. (Emma) Lucy Braun (1889-1971): Born in Cincinnati where her parents fostered in her a deep love of nature, Lucy Braun was considered an environmentalist even before the term was popular. Braun graduated from the University of Cincinnati in 1910, received a Master's degree in geology by 1912 and a PhD in botany by 1914. She began her teaching career at the University of Cincinnati in 1914, finally achieving full professorship in plant ecology in 1946. Through her long and fruitful career, Braun wrote four books and 180 articles-- her most famous being Deciduous Forests of Eastern North America (1950). Her work, The Woody Plants of Ohio is still used today and considered an important contribution toward a larger project: The Vascular Flora of Ohio. A three-year grant from the National Science Foundation for this book project allowed her to travel around Ohio to collect plant specimens and obtain many high-quality illustrations. Finally, Lucy Braun was regarded as a mentor to other women in this field. Of thirteen graduate students under her guidance, nine were women, a statistic highly uncommon during her era. (https://vimeo.com/187893821)
Ellen Biddle Shipman (1869-1950): One who always loved to garden, this famous Landscape architect described her style as 'painting the landscape with plants and flowers.' Much of her early inspiration came from her neighbors when her husband and family moved to an up and coming artist community in Cornish New Hampshire. Among those neighbors was the prominent landscape architect, Charles Platt, who took her under his wing and offered her a chance at landscape design. During this time, landscape architecture was one of the few professions open to women. By the 1930s, she had become known as a woman pioneer in this field and called by many "the Dean of American women Landscape Architects." Her popularity grew, as did her New York City business that employed an all-female workforce. She completed over 650 projects in her lifetime, and her designs—reflecting a unique sense of intimacy, romance and seclusion-- were favorites of well-known families such as Ford, DuPont, and Vanderbilt.  Today few of her gardens remain free and open to the public, but you can visit one right here in your Metroparks at the Manor House at Wildwood Preserve.
Anna Comstock (1854-1930): Mother of Nature Education: Even in college and her early professional years, Anna Comstock's work-- from wood carvings to insect illustrations-- was praised by professors and national scientists for its remarkable accuracy.  She received a BA in natural history in 1885 from Cornell University and became Cornell University's first woman assistant professor in 1889. In the years that followed, she devoted her career to the importance of nature study for children-- advocating field trips for students to study nature in its habitat and truly transforming nature education in public school systems country-wide. Her 900-page Hand Book of Nature Study, written and illustrated by her and published in 1911, has been printed in eight languages and 24 editions, and it is still considered required reading by naturalists and environmental educators throughout the United States. She became recognized as Professor Comstock at Cornell University in 1920, and in 1923 was named one of the 12 greatest living women in by the League of Women Voters. Today she is known in the National Wildlife Federation's, Conservation Hall of Fame as the "Mother of Nature Education."
Rachel Carson (1907-1964): One of the finest nature writers of the 20th century, Rachel Carson is often remembered for her groundbreaking book Silent Spring (1962). Eloquently detailing the harms of chemicals on the natural world, this book ushered in the modern environmental movement that would eventually lead to the creation of the Environmental Protection Agency. Carson graduated from the Pennsylvania College for Women (Chatham University) in 1929, attended courses afterwards at John Hopkins University in zoology and genetics, and also was known as a gifted oceanographer. After her death, she was awarded the Presidential Medal of Freedom by President Jimmy Carter.