Comments, Questions Invited About Swan Creek Trail Extension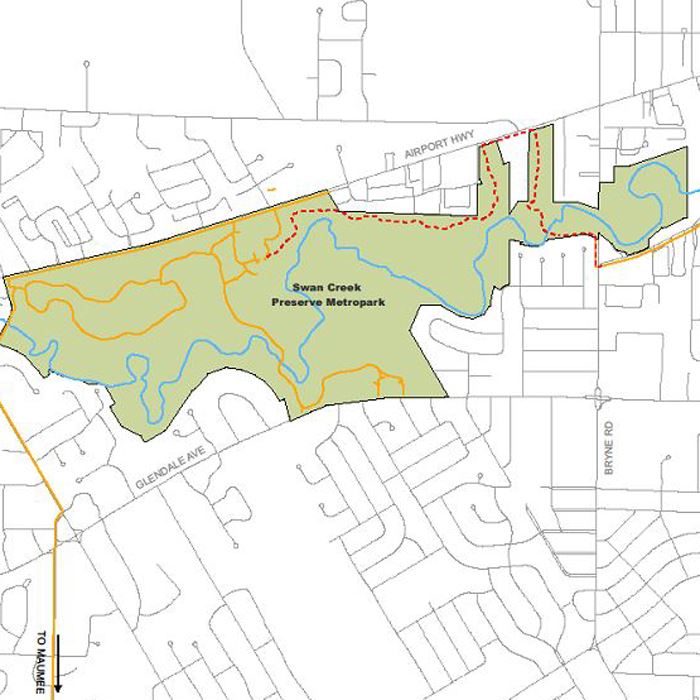 Metroparks Toledo is proposing to construct a 10-foot-wide, shared-use path beginning at the existing Swan Creek Preserve parking lot off Airport Highway. The path will follow the alignment of the existing aggregate path (Blue Trail – North Trail) for approximately 3,000 feet, and continue along a new alignment through the preserve, ending at the existing concrete walk along Byrne Road.
The new path would consist of approximately 6,500-feet of asphalt, 520 feet of boardwalk and three bridges over Swan Creek.
The Swan Creek Trail improvements will provide the missing piece of trail that will ultimately connect Maumee to Swan Creek Preserve and the University of Toledo Medical Center. Construction is expected to begin in the summer of 2020 and last for approximately 120 days. During construction, minor trail restrictions are anticipated and any necessary detours for pedestrian and vehicular traffic will be posted.  
The public is invited to ask questions or give comments on any topic related to the project, including its effect on residents, the pedestrian and vehicular detours, cultural resources (archaeological and history/architectural), ecological resources (streams, wetlands, etc.) and hazardous materials (dump sites, underground and above ground storage tanks, etc.). Metroparks and the Ohio Department of Transportation are also interested in any information the public may have about the existence of these features in the project area shown on the attached mapping.
There are no anticipated adverse environmental impacts at this time. Anticipated impacts include minor tree cutting and temporary stream/wetland impacts. All impacts will be held to the minimum amount necessary to construct the new trail.
Please submit questions and comments on these issues by January 15, 2020.  If you have any questions or if you would like additional information, you may write to:
Metroparks Toledo
6101 Fallen Timbers Lane
Maumee, Ohio 43537
You may also email or call Jon Zvanovec, 419-407-9732, or visit the office.