Former Leaders Would Be 'Overjoyed' at Today's Progress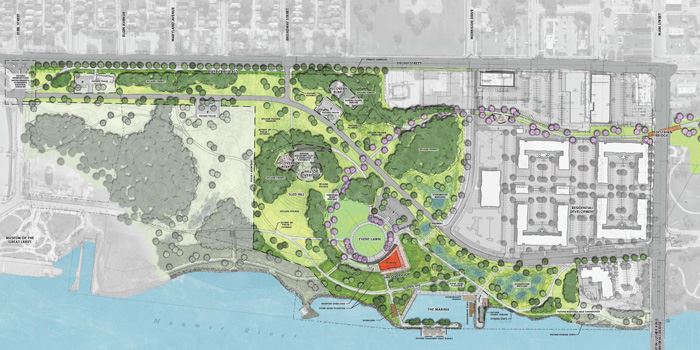 By Art Weber
The Board of Park Commissioners that ushered in the dawn of the Metropark district's Renaissance way back in 1972 would heartily approve of the work of today's Board and staff. That was the year the park district under Board President Donald Finkbeiner and Director Robert R. Metz began collecting its first property tax levy. It was just one-half mill but it gave the park district its first firm financial footing and finally a grip on its own destiny.
At that time there were "Eight Great Metroparks" and a small parcel in downtown Toledo, a parking lot at the corner of Erie and Jefferson that was a bequest from the Arthur Secor family with proceeds to be used to purchase, operate and improve today's Secor Metropark. As the downtown retail businesses waned, parking lot proceeds faltered as well. Meanwhile, Wildwood Preserve had become the ninth Metropark, Oak Openings private inholdings were mostly acquired, Side Cut had been expanded several times, and by 1983, the Board and staff began to look in earnest at ways to preserve more lands and make the park district more accessible to the community.
As the Board and staff surveyed the community for potential parklands in underserved areas of the community they looked at places like Manhattan Marsh, an area In North Toledo dubbed Halfway Creek, Pearson North, the old Toledo Edison Club and Ewing Island (now Audubon Islands). Plus, additional parklands at "Kettle Run" to expand access to the Maumee River above Bend View. All were part of an expansion proposal packaged as part of a levy proposal in May 1984.  
And, as parking lot revenues continued to decline, every time the contract with the parking lot operator was up for its annual renewal Board President John Yager, who stepped up with the death of Mr. Finkbeiner in 1973, opened discussion on using the site as a mini-Metropark to give the park district a downtown presence. Everyone liked the idea in principle, but there were concerns about how to make the small parcel effective and meaningful.
The growth levy of May 1984 failed by a narrow margin and a subsequent smaller request was approved by voters that fall. Yet the appeal of acquiring those new sites persisted and, as we now know, many of them have been acquired.
And the parking lot? Ultimately it was judged that the small size of the parking lot and its location weren't conducive to a mini-Metropark. Reluctantly, the Board sold the property and placed the proceeds in the Secor Trust Fund.
That same Board would be overjoyed – and surprised – at the changes in the downtown area that brought us to opening Middlegrounds and planning a new park in the former Marina District.
As a side note, John Yager, one of the classiest and most diplomatic men I've ever met, gently but persistently pushed several general notions. As a Marine who had served in both World War II and the Korean War, he often said he had already walked enough for a lifetime. So he lobbied for generous placement of park benches to rest and enjoy the view. And he felt that we should dig more ponds for those benches to view.
He'd be pleased at the proliferation of benches in so many park areas, and would be giving a very approving nod to the lake at Cannonball Prairie, a new Metropark opening this year in Monclova Township.         
__
Art Weber has served Metroparks for more than 45 years as public information manager, director of the National Center for Nature Photography and nature photographer. Follow Metroparks Toledo on Instagram to see his images.