Glass City Metropark Opening Weekend June 9-11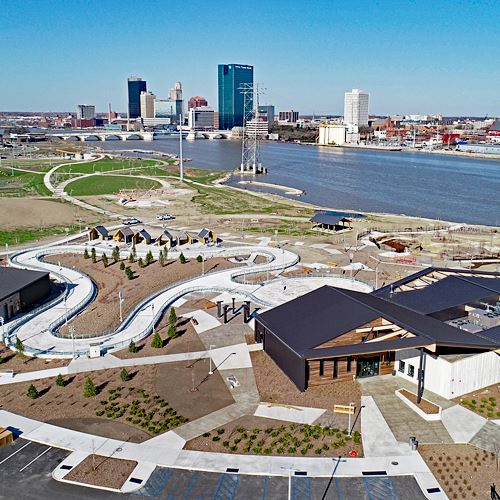 Opening weekend for Glass City Metropark will be Friday-Sunday, June 9-11, with a free concert Friday evening, a roller skating party Saturday and an outdoor expo Sunday.
Phase 2 of Glass City includes Market Hall, a restaurant, The Ribbon roller and ice skating trail, nature-themed children's play areas, art installations and three miles of trails. Phase 1, including the Pavilion and sledding hill, opened in 2020.
Glass City Metropark, in East Toledo, is bordered by Front Street and the Maumee River and stretches from the Martin Luther King, Jr. Bridge to the Craig Bridge. The park is the first part of Glass City Riverwalk, still in development.
Opening Weekend Events
Opening weekend festivities, presented by Buckeye Broadband, will begin Friday, June 9, with a ribbon cutting event at 11 a.m. The Garden by Poco Piatti, a new fast casual concept by a well-known local restaurant family, will have its grand opening at noon inside Market Hall.
Friday evening, Toledo's own Nikki D & the Sisters of Thunder will perform a free concert on the event lawn adjacent to the Pavilion. The gospel-soul band made up of family members has travelled the country to perform at festivals, churches and auditoriums, and opened for Jack White & the Raconteurs in Detroit. The band is fronted by Nikki Brown, who is known for her powerful vocals and lap slide "sacred steel" guitar skills honed in church. She has performed at the Blues on Broadbeach Festival in Australia.
A First Saturday celebration June 10 will begin the inaugural weekend for the new park features. Kids can climb the 40-foot-tall Grosbeak Adventure tower or explore the new Mini Maumee water play and other new play areas. The Ribbon will be open at 7 p.m. for the first roller skating party of the summer with DJ Folk.
Sunday, June 11, the annual Outdoor Expo will be held at Glass City from noon to 5 p.m. Participants in the free event will be able to try kayaking, mountain biking, rock climbing and other activities offered by the Metroparks program staff.
Glass City will be open every day of the year from 7 a.m. to 10 p.m.
Additional details will be available as opening day approaches.
About Glass City
While the opening will include most of the major amenities of the new park, additional art installations, a campground and the Glass City Enrichment Center on Front Street will still be in development.
The park is part of the larger Glass City Riverwalk. The first legs of Riverwalk are currently under construction on both sides of the river: from the MLK Bridge to Fort Industry on the downtown side, and from the bridge to The Docks restaurant complex in International Park. Future phases will renovate the remainder of International Park and extend from the MLK bridge to the Vistula neighborhood downtown.