Howard Marsh Contract Awarded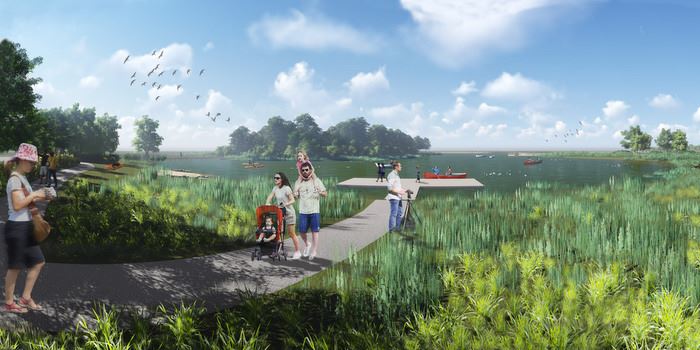 The Board of Park Commissioners has approved a contract with Mark Haynes Construction of Norwalk for the construction of Howard Marsh Metropark near the Lake Erie shore in Jerusalem Township.
Haynes' bid of $8.7 million, which includes a 10 percent contingency, was determined was the apparent best of the nine bids received. The bid was substantially below estimates.
The work will consist of diked wetland construction as well as the park amenities, including boardwalks, paths, fishing and boat launch platforms, road a parking lot, a restroom, benches, signage and site utilities. Work is expected to begin shortly.
The project is being paid for with an estimated $1.6 million in funding from the National Oceanic and Atmospheric Administration and $4.5 million from the Ohio Division of Wildlife. An $83,500 Nature Works grant from the Ohio Department of Natural Resources will pay for the restroom building. Metroparks will pay for the remaining cost.
The project includes 700 acres east of Howard Road. Another 235 acres owned by Metroparks west of Howard Road is being set aside for future park development.
Three residences on the property will be demolished after being used for training by the Jerusalem Township and Oregon fire departments.
Metroparks purchased the property formerly known as Howard Farms in 2008 for $6 million, with $3 million in funding from the Ohio Division of Wildlife, $1.8 million from the Clean Ohio Fund and $10,000 from Ducks Unlimited, an international conservation organization.
Haynes Construction is currently finishing its part of the Middlegrounds.
Above and below: Artist's drawings of Howard Marsh when it's fully developed