Howard Marsh Metropark to Open April 28 Near Lake Erie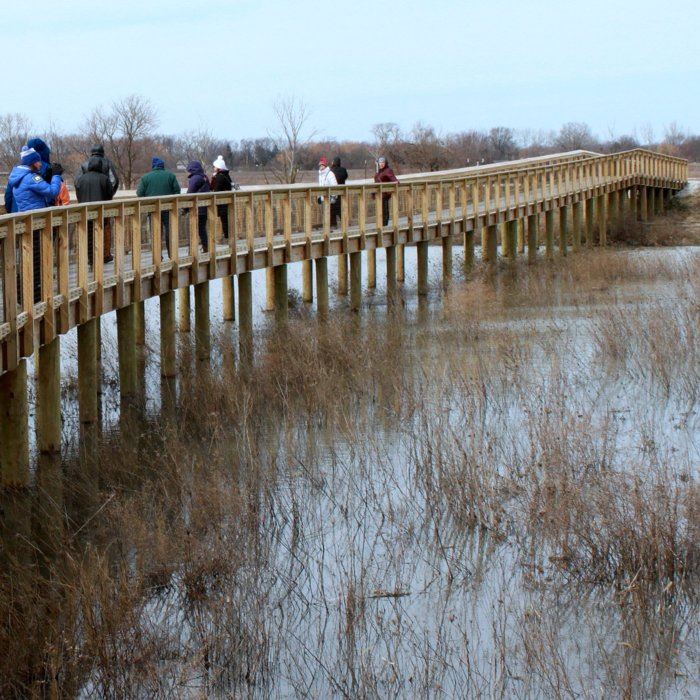 Lucas County, get ready to meet your newest Metropark!
Howard Marsh Metropark in Jerusalem Township will open to the public April 28. The park will then be open, like all Metroparks, from 7 a.m. until dark every day of the year with no admission fee.
The park is located at 611 S. Howard Road, Curtice, just north of State Route 2, adjacent to the Metzger Marsh Wildlife Area.
The new park is still under construction and currently not open to the public. Between now and opening day, water from Lake Erie will slowly fill the diked marsh units.
Visitors on grand opening day will be able to meet staff from Metroparks, the Ohio Division of Wildlife and other partner agencies between 10 a.m. to 3 p.m., enjoy tours of the sprawling new park and walk on the boardwalk to see what birds are arriving during the spring migration.
Starting with farmland 18 months ago, Metroparks restored most of the 1,000-acre property to a functioning wetland near the Lake Erie shore. As a marsh, it will filter runoff water before it reaches Lake Erie and provide important spawning habitat for fish and stopover habitat for a variety of birds. And it will create additional opportunities for visitors to enjoy the outdoors.
"More parks and trails will connect more people with the outdoors, and that's ultimately what we are all about," said Dave Zenk, executive director of Metroparks Toledo.
Six miles of dike-top walking trail around the marsh units and a quarter mile of boardwalk through the marsh will attract hikers and birders looking for species to check off on their life lists. About seven miles of navigable water and two kayak launch docks will provide a unique experience for paddlers.
When it opens, Howard Marsh will be the 16th Metropark, and the second largest in the Metroparks system. It will also put the park district a step closer to achieving its goal of placing a park with five miles of every home in Lucas County.
"It is the largest project we've ever undertaken, one of our most important projects from an ecological standpoint, and extremely timely for our region given the recent troubles we've experienced with Lake Erie," said Zenk.