Librarian Picks Books Focusing on Autumn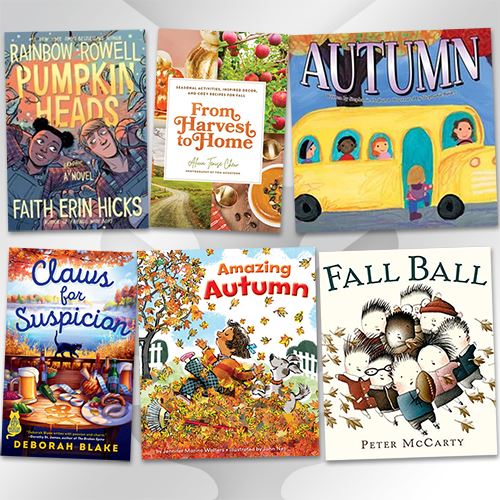 Recommended reading on nature-related topics from librarians at the Toledo Lucas County Public Library.
From Harvest to Home: Seasonal activities, inspired décor, and cozy recipes for fall
By: Alicia Tenise Chew
"For anyone who loves all things fall, From Harvest to Home is a stunning celebration of this enchanting season. Brimming with gorgeous photography and tons of creative ideas for autumnal activities, decor, DIYs and recipes, this beautiful lifestyle book will inspire you. So, grab a pumpkin spice latte, don your coziest flannel, and snuggle up. Let's make this fall the best one yet."--Modified from back cover.
Find it at your Library: [ Book ]
Claws for Suspicion
By: Deborah Blake
When someone from her past comes to town to cause trouble, Kari Stuart and her sassy kitten Queenie will have to work hard to protect the Serenity Sanctuary in this new Catskills Pet Rescue Mystery. Kari Stuart is finally starting to relax into her role as the new owner of the Serenity Sanctuary and is looking forward to the various fun autumn activities in the beautiful Catskills town of Lakeview, like the annual Oktoberfest celebration. It's time for friends and quality bonding with handsome vet Angus McCoy. Until the unexpected arrival of her unpleasant ex-husband, Charlie Smith. He comes bearing a shocking revelation—the paperwork on their divorce never went through, and they are still married. Worse yet, he thinks this entitles him to half of her lottery winnings—although he'll happily take partial ownership of the sanctuary instead. Kari isn't sure if he's telling the truth, or if it's just another one of Charlie's lies. But things go from bad to worse when an unexpected death makes Kari the main suspect in a murder investigation. Will she and Queenie be able to find the real killer and keep the home they've built at the sanctuary safe, or is their string of luck finally tapped out?
Find it at your Library: [ Book ] [ eBook ] [ eAudio ]
Pumpkin Heads
By: Rainbow Rowell
Working at a pumpkin patch every autumn, Deja and Josiah plan the ultimate Halloween night to celebrate their last year working together.
Find it at your Library: [ Book ] [ eBook ] [ eBook Spanish ]
Amazing Autumn
By: Jennifer Marino Walters
The fall season can be truly amazing with colorful leaves in big soft piles, Halloween pumpkins and pumpkin pie. Oh my, what an Amazing Autumn. – From hoopla
Find it at your Library: [ hoopla Book ] [ hoopla eAudio ]
Autumn
By: Stephanie Hedlund
Teach young readers all about autumn in this informative, easy-to-read, illustrated book. Learn about the position of the sun, the autumnal equinox, the activities of plants and animals, and all of the fun things humans can do during the season of autumn! A season calandar, autumn activity ideas, glossary, and index provide more learning opportunities! Aligned to Common Core Standards and correlated to state standards. Looking Glass Library is an imprint of Magic Wagon, a division of ABDO Group. Grades PreK-4. – From hoopla
Find it at your Library: [ Book ] [ hoopla eBook ]
Fall Ball
By: Peter McCarty
"Bobby and his friends wait all day for school to end and for their chance to play outdoors in the fall weather. Flying leaves, swirling colors, and crisp air make the perfect setting for a game of football with Sparky the dog. The kids are surprised by how quickly it gets dark, and even more surprised when it begins to snow. But there's no need to worry--the chilly nights ahead will mean watching football on the couch with family, tucked under a cozy blanket"-- Provided by publisher.
Find it at your Library: [ Book ]