Librarian Picks Books Focusing on Spring Birds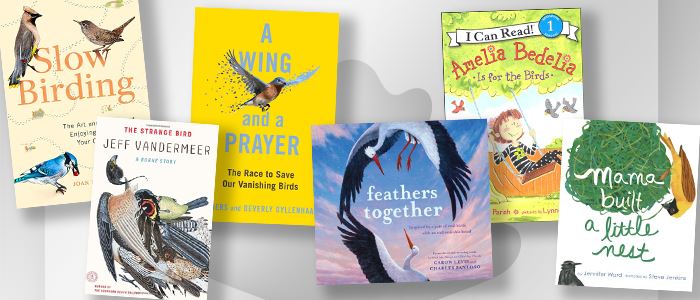 Recommended reading on nature-related topics from librarians at the Toledo Lucas County Public Library.
Mama Built a Little Nest!
By: Jennifer Ward
Illustrations and simple, rhyming text introduce different kinds of birds' nests, from the scrapes falcons build on high, craggy ledges to the underground nests burrowing owls dig. Includes brief facts about each kind of bird.
Find it at your Library: [ Book ]
Feathers Together
By: Caron Levis
Stork friends Malena and Klepetan look forward to the next migration from Croatia to South Africa, but when Malena is injured and can not join the flock, their time apart brings many challenges and big feelings, pushing them to stay connected and hope for a spring reunion.
Find it at your Library: [ Book ] [ hoopla eAudio ] [ hoopla eBook ] [ hoopla Movie ] [ hoopla Read Along ]
Amelia Bedelia Is For the Birds
By: Herman Parish
Amelia Bedelia's after-school routine includes playing on her swing set every day, but when she discovers that robins are building a nest atop her slide, she watches them raise a family, instead.
Find it at your Library: [ Book ] [ hoopla eAudio ] [ hoopla eBook ]
The Strange Bird
By: Jeff VanderMeer
The Strange Bird is a new kind of creature, built in a laboratory -- she is part bird, part human, part many other things. But now the lab in which she was created is under siege and the scientists have turned on their animal creations. Flying through tunnels, dodging bullets, and changing her colors and patterning to avoid capture, the Strange Bird manages to escape. But she cannot just soar in peace above the earth. The sky itself is full of wildlife that rejects her as one of their own, and also full of technology -- satellites and drones and other detritus of the human civilization below that has all but destroyed itself. And the farther she flies, the deeper she finds herself in the orbit of the Company, a collapsed biotech firm that has populated the world with experiments both failed and successful that have outlived the corporation itself.
Find it at your Library: [ Book ]
A Wing and A Prayer: The Race to Save Our Vanishing Birds
By: Anders Gyllenhaal
Three years ago, headlines delivered shocking news: nearly three billion birds in North America have vanished over the past fifty years. No species has been spared, from the most delicate jeweled hummingbirds to scrappy black crows, from a rainbow of warblers to common birds such as owls and sparrows.
For the past year, veteran journalists Anders and Beverly Gyllenhaal traveled more than 25,000 miles across the Americas, chronicling costly experiments, contentious politics, and new technologies to save our beloved birds from the brink of extinction. Through this compelling drama, A Wing and a Prayer offers hope and an urgent call to action: Birds are dying at an unprecedented pace. But there are encouraging breakthroughs across the hemisphere and still time to change course, if we act quickly. [Taken from Amazon.]
Find it at your Library: [ Book ]
Slow Birding: The Art and Science of Enjoying the Birds in Your Own Backyard
By: Joan Strassmann
"Many birders travel far and wide to popular birding destinations to catch sight of rare or "exotic" birds. In Slow Birding, evolutionary biologist Joan E. Strassmann introduces readers to the joys of birding right where they are. In this inspiring guide to the art of slow birding, Strassmann tells colorful stories of the most common birds to be found in the United States-birds we often see but might not have considered deeply before"-- Provided by publisher.
Find it at your Library: [ Book ] [ eBook ]