Librarian Picks Books That Focus on Flowers and Bird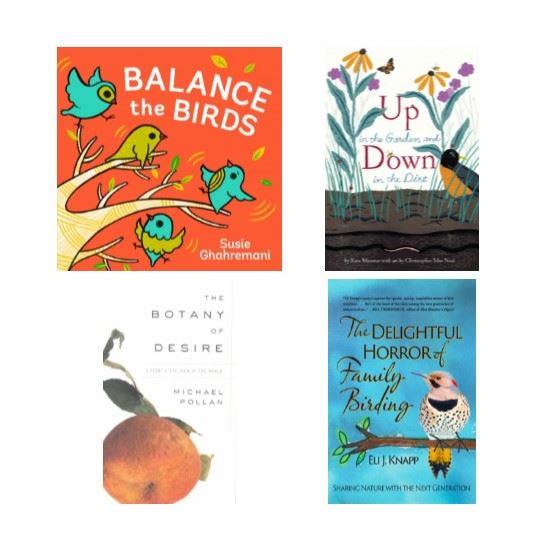 Recommended reading on nature-related topics from librarians at the Toledo Lucas County Public Library. 
Even though you can't go to the library, you can still check out these online resources about plants and birds. Visit toledolibrary.org for more details on how to check out eBook and eAudio materials using the free Libby/Overdrive and Hoopla apps.
Up in the Garden and Down in the Dirt
by Kate Messner (eBook) 
Up in the garden, the world is full of green leaves and sprouts, growing vegetables, and ripening fruit. But down in the dirt exists a busy world where earthworms dig, snakes hunt, and skunks burrow. Explore the hidden world and many lives of a garden through the course of a year. 
The Botany of Desire: A Plant's Eye View of the World
by Michael Pollan (eAudio) 
In telling the stories of four familiar plant species that are deeply woven into the fabric of our lives, Pollan illustrates how they evolved to satisfy humankind's most basic yearnings and, by doing so, made themselves indispensable. The sweetness of apples, for example, induced the early Americans to spread the species, giving the tree a whole new continent in which to blossom. So who is really domesticating whom? 
Balance the Birds
by Susie Ghahremani (eBook) 
A follow-up to the popular Stack the Cats, this picture book introduces key early math skills. Can you help the birds find the perfect balance? 
The Delightful Horror of Family Birding: Sharing Nature with the Next Generation
by Eli J. Knapp (eBook) 
Whether traveling solo or with his students or children, Knapp levels his gaze on the birds that share our skies, showing that birds can be a portal to deeper relationships, ecological understanding, and newfound joy.