Librarian Picks Books that Focus on Spring Flowers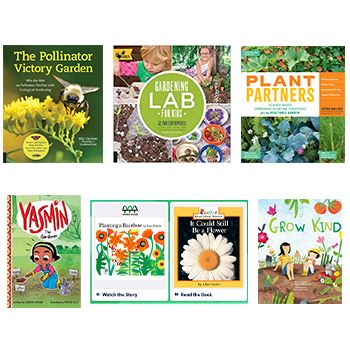 The Pollinator Victory Garden
By: Kim Eierman
The passion and urgency that inspired WWI and WWII Victory Gardens is needed today to meet another threat to our food supply and our environment—the steep decline of pollinators. The Pollinator Victory Garden offers practical solutions for winning the war against the demise of these essential animals. [From Amazon.]
Find it at your Library: [ Book ] [ hoopla eBook ] 
Plant Partners
By: Jessica Walliser
Reflecting the latest research on how plants influence and communicate with each other, Jessica Walliser offers a research-based guide to companion planting--a gardening method that uses strategic plant partnerships to improve crop yields and outsmart pests.
Find it at your Library: [ Book ] [ Overdrive eBook ] [ hoopla eBook ] 
Grow Kind
By: Jon Lasser
Young Kiko, aided by her teenage sister, Annie, and her dog, Chico, grows kind as they harvest fruits, flowers, and vegetables from their garden and share them with others.
Find it at your Library: [ Book ] 
Yasmin the Gardener
By: Saadia Faruqi
When spring arrives, Yasmin and her Baba plant a garden but Yasmin's flower seedling keeps wilting until her Nani sits in the sun, revealing to Yasmin what the plant needs.
Find it at your Library: [ Book ] 
Gardening Lab for Kids
By: Renata Brown
A refreshing source of ideas to help your children learn to grow their own patch of earth, Gardening Lab for Kids encourages children to get outside and enjoy nature. This fun and creative book features 52 plant-related activities set into weekly lessons, beginning with learning to read maps to find your heat zone, moving through seeds, soil, composting, and then creating garden art and appreciating your natural surroundings. [From Overdrive.]
Find it at your Library: [ Book ] [ Overdrive eBook ] 
Planting a Rainbow & It Could Still Be A Flower
By: Lois Ehlert & Allan Fowler
Check out our Bookflix Database that pairs two related youth books together – one fiction and one nonfiction. In this pairing, and in keeping with the theme of being wild about flowers, read all about how seeds turn into flowers, what certain flowers look like, and more.
Find them at your Library: [ Bookflix Database ]