Librarian Picks Books that Focus on Water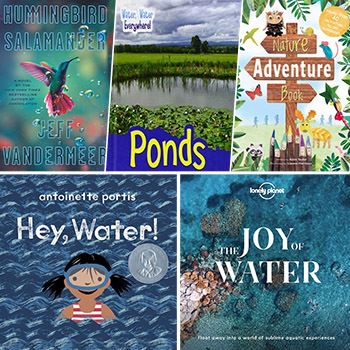 Recommended reading on nature-related topics from librarians at the Toledo Lucas County Public Library.
The Nature Adventure Book
By: Katie Taylor and Lianne Harrison
You don't need to live near a forest or have a huge garden to have a go at these projects - the activities and crafts in this book can be done on-the-go, in your neighborhood, or at your local park.
Find it at your Library: [ book ]
Hey, Water!
By: Antoinette Portis
Splashy illustrations and simple text explore water in its many shapes and forms.
Find it at your Library: [ book ]
Hummingbird Salamander
By: Jeff Vandermeer
A brilliant speculative thriller of dark conspiracy, endangered species, and the possible end of all things
Find it at your Library: [ book ]  [ Libby ]
The Joy of Water
By: Lonely Planet
Featuring personal stories about the exhilarating, restorative, formative power of water. Whether you're a thrill seeker or looking relax and recharge, these destinations and activities inspire readers to get back in the water.
Find it at your Library: [ hoopla ]
Ponds
By: Diyan Leake
In this book, children learn all about ponds, including what ponds are like, what lives in ponds, how some ponds are made, and how to stay safe near ponds.
Find it at your Library: [ hoopla ]