Librarian Picks Focus on Bugs 2021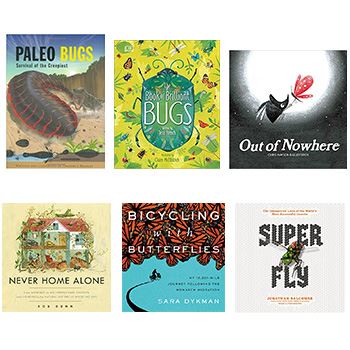 Recommended reading on nature-related topics from librarians at the Toledo Lucas County Public Library.
Never Home Alone
By: Rob Dunn
Even when the floors are sparkling clean and the house seems silent, our domestic domain is wild beyond imagination. In Never Home Alone, biologist Rob Dunn introduces us to the nearly 200,000 species living with us in our own homes, from the Egyptian meal moths in our cupboards and camel crickets in our basements to the lactobacillus lounging on our kitchen counters. You are not alone. Yet, as we obsess over sterilizing our homes and separating our spaces from nature, we are unwittingly cultivating an entirely new playground for evolution. These changes are reshaping the organisms that live with us--prompting some to become more dangerous, while undermining those species that benefit our bodies or help us keep more threatening organisms at bay. No one who reads this engrossing, revelatory book will look at their homes in the same way again.
Find it at your Library [ Book ] [ eBook ]
Super fly: The Unexpected Lives of the World's Most Successful Insects
By: Jonathan Balcombe
"For most of us, the only thing we know about flies is that they're annoying, and our usual reaction is to try to kill them. In Super Fly, the myth-busting biologist Jonathan Balcombe shows the order Diptera in all of its diversity, illustrating the essential role that flies play in every ecosystem in the world as pollinators, waste-disposers, predators, and food source; and how flies continue to reshape our understanding of evolution. Along the way, he reintroduces us to familiar foes like the fruit fly and mosquito, and gives us the chance to meet their lesser-known cousins like the Petroleum Fly (the only animal in the world that breeds in crude oil) and the Chocolate Midge (the sole pollinator of the Cacao tree). No matter your outlook on our tiny buzzing neighbors, Super Fly will change the way you look at flies forever." -- Provided by publisher.
Find it at your Library [ Book ]
Bicycling with Butterflies: My 10,201-mile Journey Following the Monarch Migration
By: Sara Dykman
"Outdoor educator and field researcher Sara Dykman made history when she became the first person to bicycle alongside monarch butterflies on their storied annual migration--a round-trip adventure that included three countries and more than 10,000 miles. Equally remarkable, she did it solo, on a bike cobbled together from used parts. In Bicycling with Butterflies, Dykman recounts her incredible journey and the dramatic ups and downs of the nearly nine-month odyssey. We're beside her as she navigates unmapped roads in foreign countries, checks roadside milkweed for monarch eggs, and shares her passion with eager schoolchildren, skeptical bar patrons, and unimpressed border officials. We also meet some of the ardent monarch stewards who supported her efforts, from citizen scientists and researchers to farmers and high-rise city dwellers. With both humor and humility, Dykman offers a compelling story, confirming the urgency of saving the threatened monarch migration--and the other threatened systems of nature that affect the survival of us all."-- Publisher's description.
Find it at your Library [ Book ] [ hoopla eBook ] [ hoopla eAudio ]
The Book of Brilliant Bugs
By: Jess French
Learn about the amazing world of insects and minibeasts in this gorgeously illustrated book of bugs. From the world's biggest beetle to dancing bees, you'll learn all about the incredible secret world of creepy crawlies. Did you know that ladybirds love to snuggle or how fireflies glow so brightly? Find out inside. The Brilliant Book of Bugs, written by insect expert Jess French and gorgeously illustrated by Claire McElfatrick, takes children on a fascinating journey of exploration, showing them just how amazing creepy-crawlies are, including insect relatives such as slimy slugs and scuttling centipedes. Discover how they pass on messages, how they compete for food, seek true love, and fill the air with buzzing wings.
Find it at your Library [ Print ]
Out of Nowhere
By: Chris Naylor-Ballesteros
Beetle and Caterpillar are best friends. Every day, they sit together on a big rock, sharing a picnic and looking out over the forest. But one day, Caterpillar goes missing and Beetle cannot find her. Beetle sets out on a long journey through the forest, but Caterpillar is nowhere to be seen. Beetle's just about to give up when a friendly (and rather familiar) butterfly appears out of nowhere. Can it be Beetle's friend? She may look different, but the love they feel for one another is the same as ever--Amazon.com.
Find it at your Library [ Print ]
Paleo Bugs: Survival of the Creepiest
By: Timothy J. Bradley
"What could be creepier than a 390 million-year-old cockroach? How about a 320 million-year-old millipede that's seven feet long! These crawlies and their many-legged cousins are featured in this follow-up to Paleo Sharks." --Amazon.
Find it at your Library [ Print ]