Librarian Picks Focus on Camping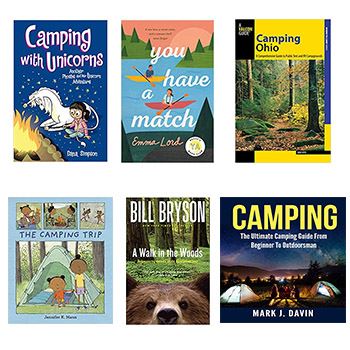 Recommended reading on nature-related topics from librarians at the Toledo Lucas County Public Library.
The Camping Trip
By Jennifer K. Mann
Ernestine is beyond excited to go camping. She follows the packing list carefully (new sleeping bag! new flashlight! special trail mix made with Dad!) so she knows she is ready when the weekend arrives. But she quickly realizes that nothing could have prepared her for how hard it is to set up a tent, never mind fall asleep in it, or that swimming in a lake means that there will be fish -- eep! Will Ernestine be able to enjoy the wilderness, or will it prove to be a bit too far out of her comfort zone?
Find it at your Library [Book]
Camping with Unicorns
By Dana Simpson
This latest installment in the Phoebe and Her Unicorn adventures by Dana Simpson is full of friendship, hijinks, magic and adventure.
Find it at your Library: [Book] [hoopla eBook] [Overdrive eBook]
You Have a Match
By Emma Lord
"A new love, a secret sister, and a summer she'll never forget. From the beloved author of Tweet Cute comes Emma Lord's You Have a Match, a hilarious and heartfelt novel of romance, sisterhood, and friendship... When Abby signs up for a DNA service, it's mainly to give her friend and secret love interest, Leo, a nudge. After all, she knows who she is already: Avid photographer. Injury-prone tree climber. Best friend to Leo and Connie...although ever since the B.E.I. (Big Embarrassing Incident) with Leo, things have been awkward on that front. But she didn't know she's a younger sister. When the DNA service reveals Abby has a secret sister, shimmery-haired Instagram star Savannah Tully, it's hard to believe they're from the same planet, never mind the same parents - especially considering Savannah, queen of green smoothies, is only a year and a half older than Abby herself. The logical course of action? Meet up at summer camp (obviously) and figure out why Abby's parents gave Savvy up for adoption. But there are complications: Savvy is a rigid rule-follower and total narc. Leo is the camp's co-chef, putting Abby's growing feelings for him on blast. And her parents have a secret that threatens to unravel everything. But part of life is showing up, leaning in, and learning to fit all your awkward pieces together. Because sometimes, the hardest things can also be the best ones" --Provided by publisher.
Find it at your Library: [Book] [hoopla eAudio] [Overdrive eBook] [Overdrive eAudio]
Camping
By Mark J. Davin
Are you keen to start camping and sample the great outdoors?
Maybe you are a complete beginner or a seasoned pro?
This book will provide great advice, whichever you are!
There can be nothing better than getting out into the fresh air and camping by the side of a river, forest or mountain. The good that it does for body and soul is difficult to replicate in any other sport or pastime and the great thing is that it doesn't matter what age you are; camping can be enjoyed by all.
Find it at your Library: [hoopla eAudio]
Camping Ohio
By Bob Frye
"Camping Ohio provides readers with useful information across all aspects of camping, both in general and specific to the Ohio area. Within each of the campground listings is vital information on location, road conditions, fees, reservations, available facilities, recreational activities camping etiquette, camping with children and the state's diverse and abundant wildlife"-- Provided by publisher.
Find it at your Library: [Print]  Overdrive eBook]
A Walk in the Woods
By Bill Bryson
The Appalachian Trail trail stretches from Georgia to Maine and covers some of the most breathtaking terrain in America - majestic mountains, silent forests, sparking lakes. If you're going to take a hike, it's probably the place to go. And Bill Bryson is surely the most entertaining guide you'll find. He introduces us to the history and ecology of the trail and to some of the other hardy (or just foolhardy) folks he meets along the way - and a couple of bears. Already a classic, A Walk in the Woods will make you long for the great outdoors (or at least a comfortable chair to sit and read in). – From Amazon/Random House Audio.
Find it at your Library: [Print] [hoopla eAudio] [hoopla Downloadable Movie] [Overdrive eBook] [Overdrive eAudio]