Librarian Picks Focus on Fall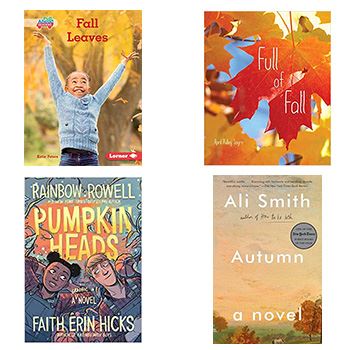 Recommended reading on nature related topics from librarians at the Toledo Lucas County Public  Library.
Fall Leaves
by Katie Peters
What happens in fall? Leaves change color, fall from the trees, and need raking. 
Find it at your Library [Book] [EBook]
Full of Fall
by April Pulley Sayre
Discover the magic—and the science—behind fall leaves with this companion to the celebrated Raindrops Roll and Best in Snow. With gorgeous photo illustrations, award-winning author April Pulley Sayre explores the transformation trees undergo in fall. The book takes readers through the leaves' initial change from green to red, yellow, and orange, the shedding of the leaves, and the leaves crumbling as winter approaches. Extensive back matter explains the science behind this process to the youngest of budding scientists. 
Find it at your Library [Book]
Pumpkinheads
by Rainbow Rowell
In Pumpkinheads, beloved #1 New York Times bestselling author Rainbow Rowell and Eisner Award–winning artist Faith Erin Hicks have teamed up to create this tender and hilarious story about two irresistible teens discovering what it means to leave behind a place―and a person―with no regrets. 
Find it at your Library [Book] [EBook]
Autumn
By Ali Smith
"A breathtakingly inventive new novel about aging, time, love, and stories themselves that launches an extraordinary quartet of books called Seasonal. Seasonal, comprised of four stand-alone books, separate yet interconnected and cyclical (as are the seasons), explores what time is, how we experience it, and the recurring markers in the shapes our lives take and in our ways with narrative. Fusing Keatsian mists and mellow fruitfulness with the vitality, the immediacy, and the color hit of Pop Art, Autumn is a witty excavation of the present by the past. The novel is a stripped-branches take on popular culture and a meditation, in a world growing ever more bordered and exclusive, on what richness and worth are, what harvest means" -- Provided by publisher. 
Find it at your Library [Book] [EBook]