Librarian Picks Focus on Spring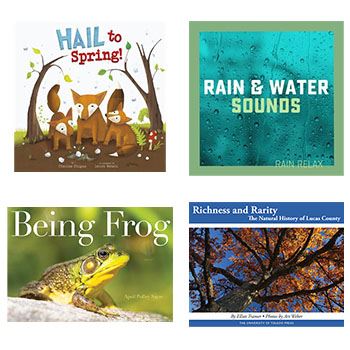 Recommended reading on nature-related topics from librarians at the Toledo Lucas County Public Library.
Hail to Spring!
By: Charles Ghigna
Springtime weather can bring big storms. Lyrical, rhyming text takes young readers on a journey with furry and feathery friends to experience springtime hail.
Find it at your Library: [ Book ] [eBook]

Being Frog
By: April Pulley Sayre
Frogs are amazing creatures, and this book offers young readers an up-close and revealing peek at their everyday lives. Follow them from egg to tadpole to froglet crawling up onto land for the first time. Watch them resting on a favorite log, searching for food, and leaping through the air. And see how frogs are unique, individual beings with rich lives all their own in the wild.
Find it at your Library: [ Book ]

Richness and Rarity: The Natural History of Lucas County
By Elliot Tramer
Lavishly illustrated with more than 125 photos by Art Weber, this 8x10 hard cover book also features contributed essays and photos by other local experts including meteorologist Ross Ellet, geologists Mark Camp and Tim Fisher, aquatic biologist Tom Bridgeman, herpetologist Kent Bekker, OSU Extension Agent Amy Stone, TNA members Eric Durbin, Jan Dixon and Rick Nirschl, and many others.
Find it at your Library: [ Book ]

Rain and Water Sounds
Take a break and fall asleep to over 2 hours of rain and water sounds!    
Find it at your Library: [ eMusic ]