Librarian Picks Focus on Winter Wildlife and Fun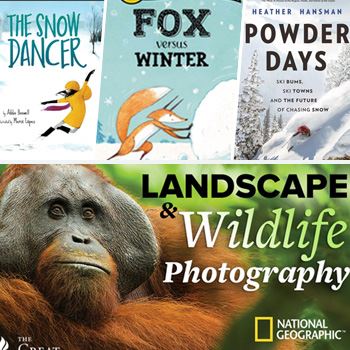 Fox Versus Winter
By Corey Tabor
Fox does not like winter. None of his friends are around to play. He is bored and alone. Then Fox has an idea. If he cannot escape winter, he will fight it!
Find it at your Library: [ Book ] [ Overdrive eBook ]
The Snow Dancer
By Addie Boswell
Young dancer Sofia wakes up to a quiet, white world-it's a snow day! She makes her way outside to the neighborhood park, where a field awaits her, white and shining and open. It isn't long before the rest of the neighborhood wakes its sleepy head-and the other kids make their way to the park, scattering all of Sofia's beautiful silence. But with the help of a new young friend, Sofia is ready to show everyone what a snow dancer can do on a perfect day like this-- inside front jacket.
Find it at your Library: [ Book ]
Powder Days
By Heather Hansman
An electrifying adventure into the rich history of skiing and the modern heart of ski-bum culture, from one of America's most preeminent ski journalists

The story of skiing is, in many ways, the story of America itself. Blossoming from the Tenth Mountain Division in World War I, the sport took hold across the country, driven by adventurers seeking the rush of freedom that only cold mountain air could provide. As skiing gained in popularity, mom-and-pop backcountry hills gave way to groomed trails and eventually the megaresorts of today. Along the way, the pioneers and diehards-the ski bums-remained the beating heart of the scene.

Veteran ski journalist and former ski bum Heather Hansman takes readers on an exhilarating journey into the hidden history of American skiing, offering a glimpse into an underexplored subculture from the perspective of a true insider. Hopping from Vermont to Colorado, Montana to Virginia, Hansman profiles the people who have built their lives around a cold-weather obsession. Along the way she reckons with skiing's problematic elements and investigates how the sport is evolving in the face of the existential threat of climate change.

Riveting, action-packed and beautifully written, Powder Days is a love letter to a high-stakes sport and the definitive tome for ski lovers everywhere.
Find it at your Library: [ Book ] [ Hoopla eAudio ]
Photographing Winter Wildlife
Presenter: Tim Laman
Winter weather offers a stunning environment in which to photograph wild animals. Comb through Mr. Laman's shots of snow monkeys, cranes, and other animals to glean the technical aspects of shooting outdoors in the winter, including honing your focusing skills and capturing the drama of a snow storm.
Find it at your Library: [ Kanopy Documentary ] Running Time: 31 mins