Metroparks Joins Pilot Water Testing Program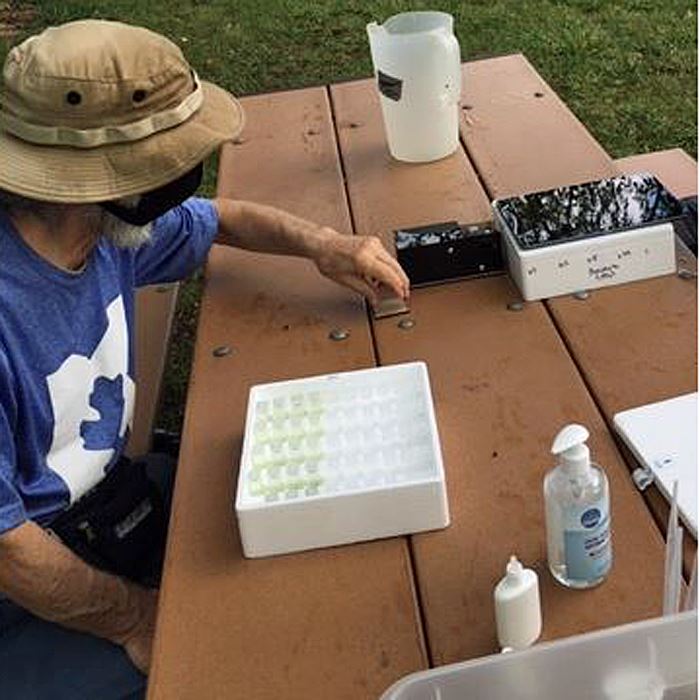 Citizen Scientists Have New Tools to Test Quality of Local Streams
Metroparks Toledo is participating in a pilot program using citizen science to gather water quality data for the Cleveland Water Alliance to help fight harmful algal blooms that have plagued Lake Erie.
The three-year Smart Citizen Science Initiative is a project of a coalition of shoreline communities in Ohio, Michigan and New York using low-cost technology to monitor tributary streams, including the Maumee River, Swan Creek and Ten Mile Creak.
Locally, the Toledo Metropolitan Area Council of Governments, sponsor of the annual Student Watershed Watch program, is another partner.
Through a grant, Metroparks received new technology monitoring equipment that staff and volunteers will use to gather water quality data.
The data collection devices, called spectrometers, are simple to use, allowing people of all ages to participate in educational programs about local freshwater resources.
Metroparks launched a volunteer program, Water Quality Monitors, in 2016 to assist staff with biological monitoring to determine the water quality of streams and rivers in and near Metroparks.
These volunteers have collected data for the Ohio Department of Natural Resources Scenic Rivers Program, as well as chemical data for the Ohio Sierra Club.
This monitoring season, Metroparks staff and volunteers will test the new "smart" devices for measuring phosphates and nitrates in the Lake Erie tributaries and report the date to the Smart Citizen Science Initiative.
"This project is a terrific opportunity to get the wider community involved in what we focus on every day: applying technology to water to drive economic development and spark innovation around water,'' said Cleveland Water Alliance president and executive director Bryan Stubbs.
The Smart Citizen Science Initiative stems from an effort led by the Council of Michigan Foundations, the Ralph C Wilson Jr. Foundation, and the Great Lakes Protection Fund to advance collaborative projects that help secure a sustainable water future for the region. In addition to these key funders, a broad coalition of sponsors support the project including:  
The Cleveland Foundation
Community Foundation for Southeast Michigan
Community Foundation for Greater Buffalo
Greater Toledo Community Foundation
Community Foundation of Lorain County
Northern Chautauqua Community Foundation
Erie County Community Foundation
Northeast Ohio Regional Sewer District
AT&T