More Room to Roam Just When We Need it Most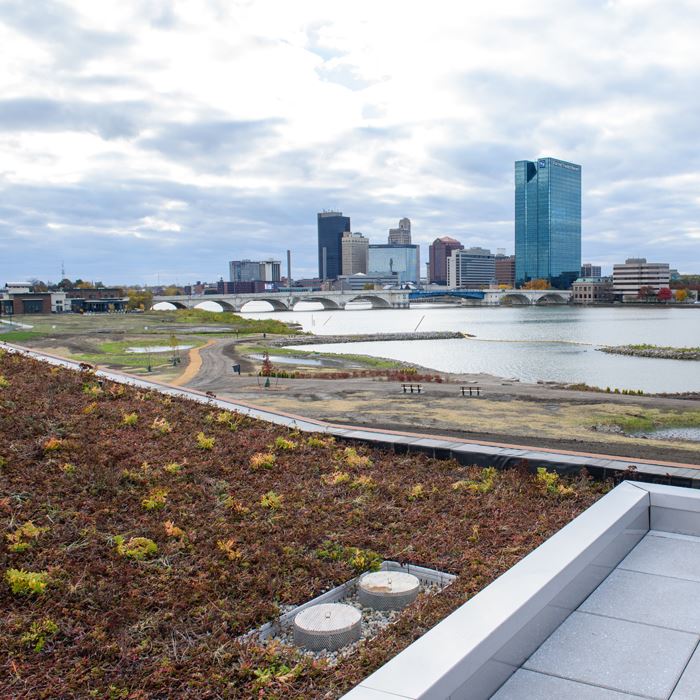 Note: With the opening of Manhattan Marsh, this story has been updated.
Three new Metroparks provide more options, more trails and more room to roam at a time when we need it most.
Glass City Metropark, Cannonball Prairie and Manhattan Marsh Preserve offer new, safe outdoor places to walk, run, play and relax as the community continues to cope with the Coronavirus pandemic.
Glass City, which opened December 4, is the first Metroparks project in East Toledo, but it won't be the last.
Phase one includes a new building with a rooftop plaza, walking paths, a lighted sledding hill and great views of the river and downtown skyline. A boardwalk extending into the river will be added in the spring. The National Museum of the Great Lakes is next door.
In the years ahead, phase 2 will include the region's first ice skating ribbon, a campground and adventure play areas.
A bike/pedestrian bridge coming next year will connect Glass City with International Park, which will become a Metropark and undergo extensive renovations in phase 3.
Object reference not set to an instance of an object.
The East Side riverfront is only part of the story, though. Eventually, Glass City Riverwalk will continue on the opposite side of the Maumee, connecting the new park with Middlegrounds Metropark, Promenade Park and six neighborhoods between the Anthony Wayne Bridge and Veterans Glass City Skyway.
The project will be funded in part by a tax levy approved by voters November 3, a $23.6 million federal transportation grant and other sources, including private contributions. ProMedica recently announced its lead gift of $10 million over the next six years.
Photo, top: View of downtown Toledo from the rooftop plaza at Glass City Pavilion
Object reference not set to an instance of an object.
Object reference not set to an instance of an object.
Manhattan Marsh Preserve in North Toledo opened on the first day of winter, December 21. The park was dedicated October 14, with final construction still in progress. Manhattan Marsh has a 1.3-mile trail with boardwalks around the marsh and scenic overlooks, a basketball court and a connection to Chase STEM Academy.
Cannonball Prairie opened in May on Monclova Road between Eber and Weckerly roads. The scenic spot has a path around a lake, access to the Wabash Cannonball Trail, campsites, a canoe/kayak launch and a trail through a prairie. It is the third new park in the Oak Openings Corridor between Secor and Oak Openings Preserve Metroparks. Eventually, the Moseley Trail will connect all five Metroparks and three State Nature Presserves.
There are now 19 Metroparks, including four in the Toledo city limits. That's double the number of parks – and four times the number in Toledo – in the last 10 years.
Photos, above: Finishing the boardwalk railings at Manhattan Marsh, which are now installed; birding at Cannonball Prairie this summer