Lead Gift Advances Riverwalk Vision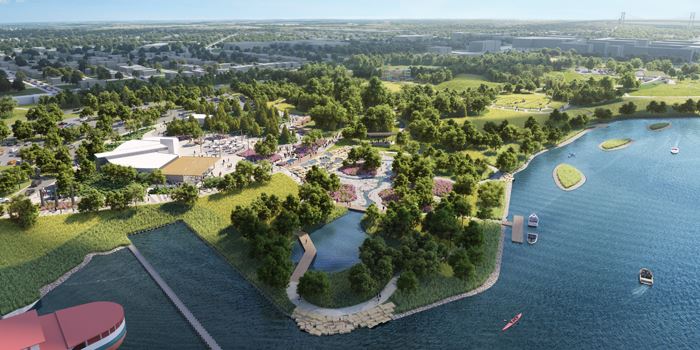 The public investment in Glass City Metropark and Riverwalk is secure, thanks to the passage of Issue 17 on the November 3 ballot. Now a lead gift has advanced the private fundraising portion of the ambitious plan to transform the Toledo waterfront.
ProMedica, a mission-based, not-for-profit health and well-being organization, has agreed to donate $10 million to the project over the next six years. The gift will help create a well-designed public green space with a range of activities in the city's core where people can connect, recreate, exercise, relax, discover learn and experience the health benefits of nature.
"The voters graciously placed their faith in Metroparks to lead this important community effort, and we pledged that the cost would not fall entirely on the taxpayers," said Dave Zenk, executive director of Metroparks. "From the generous support of ProMedica to a $23.6 million federal transportation grant announced earlier, we have a great start at matching the public's investment in the future of our region."
Riverwalk will benefit the community by attracting visitors, creating jobs, driving economic growth, and conserving and preserving one of the region's most important natural resources, the Maumee River.
"With the need to socially distance ourselves much of this year, many of us have developed an even greater appreciation for Metroparks Toledo and the role it plays in our community," said Robin Whitney, Chief Strategic Planning and Real Estate Officer, ProMedica. "ProMedica has long been aware of the health and well-being benefits associated with outdoor activity and being in nature. So, we are excited to join our community in supporting a world-class park project that will bring the positive physical and mental health benefits of being outdoors to our most urban setting. We expect this to be a truly transformative project that revitalizes our waterfront, unites multiple neighborhoods from both sides of the river, and attracts others to our community to create opportunities and support ongoing economic development."
Object reference not set to an instance of an object.
"This gift to the community, through the Metroparks Toledo Foundation, will help Metroparks keep its promise to leverage the taxpayers' investment and transform our waterfront into the showpiece of our region," said Joe Napoli, president of the Foundation. "Having ProMedica as a lead partner in this philanthropic effort makes a strong statement about the value of Riverwalk to our community."
"President and CEO Randy Oostra's vision and ProMedica's leadership in creating the Downtown Master Plan and their partnership with Metroparks to acquire the Marina District got us to where we are today," said Scott Savage, president of the Board of Park Commissioners. "Today's announcement is another significant contribution to making the Toledo region a healthier, more vibrant place to live."