New River Access Honors Local Artist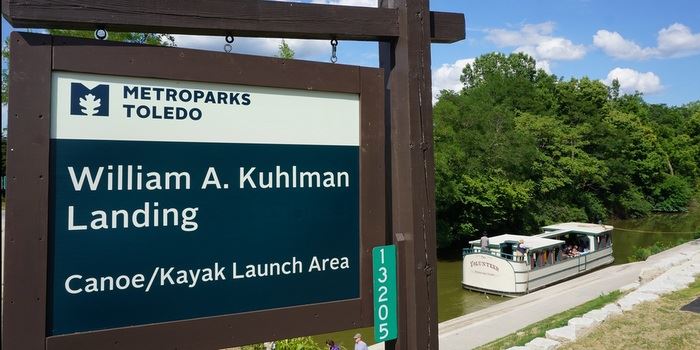 William A. Kuhlman's talent for detail and passion for local nature and history have helped thousands of Metroparks visitors better understand the parks and the treasures they preserve.
As an artist and illustrator, Bill depicted horses muscling wagons through the mud of the Great Black Swamp, the harsh life of workers on the Miami and Erie Canal and other subjects where words alone fall short.
Some of his canal illustrations will now be part of interpretive signage at Kuhlman Landing, a new Maumee River access named for Bill and made possible by a generous gift from his family following his death in 2015.
"The Metroparks and the Maumee River were always a special part of Bill's life, as well as our family's," said Trudy Kuhlman, Bill's wife. "We felt it was fitting to honor his memory by helping the Metroparks encourage a deeper understanding of the river and the canal's history."
Kuhlman Landing, on Grand Rapids Road (SR 295) just before the bridge, provides river access on the site of a building torn down in 2012 that had been used as a hotel and a sportsman's club. The rugged, tiered cement shoreline improvements were built to withstand the forces of the ever-changing river and provide access to launch canoes and kayaks at various water levels. A "switch-back" ramp also offers access from a new, 14-car parking lot to the Towpath Trail.
The site, which was landscaped this fall, has already seen steady use by fishermen as well as walkers and runners.
Object reference not set to an instance of an object.