Oak Openings Raptor Spotters Have Eyes For Blobs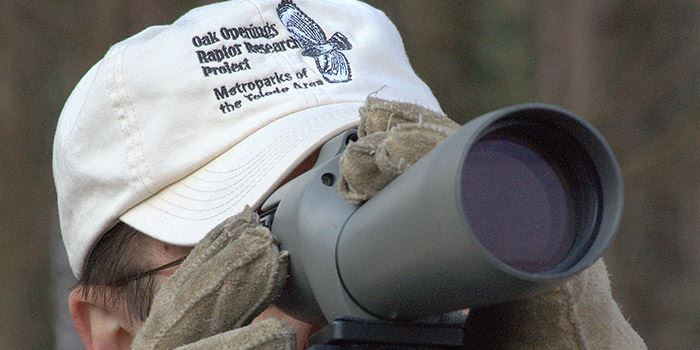 Seeing any one of the big birds would have made the morning memorable. But seeing five different species of raptors is a great day even for an experienced birder.
"Where else in northwest Ohio can you spend this amount of time in such a small area and see nesting bald eagles, kestrels and red-shouldered hawks?" said Karen Menard, stewardship services supervisor for Metroparks. "It's just amazing."
While the Lake Erie shore is a renowned bird magnet, the Oak Openings Region is a more active breeding area for raptors, a category of predatory birds that includes eagles, hawks, falcons and owls. What they all have in common is that they are built for hunting, with sharp, hooked beaks and claws, and keen eyesight.
Even in the fifth year of the Oak Openings Raptor Research Project, you get the sense that an encounter with one of the large birds of prey is no routine event for program co-leader Menard and 50 volunteer raptor monitors.
"What keeps us going is the enthusiasm of the volunteers," she said. "Every time you find a new nest it's exciting. It's another piece of the puzzle."
This trip started on an overcast Sunday in late March. Driving country roads between Oak Openings Preserve and the Henry County line, not far from the Maumee River, Menard and two volunteers were looking for "blobs in trees."
This time of year a blob could be a ball of leaves fashioned into a nest by a squirrel, or a large, stick-built nest belonging to a pair of red-tailed hawks or great-horned owls (which do not build their own nests, but take over "redtail" nests).
Prime raptor nesting time begins before the first day of spring and continues into mid-April for most species, when the young hatch and leave the nest, or fledge. Some monitoring continues until the latest breeders, broad-winged hawks, fledge in early July.
Last year, the volunteers documented 46 breeding pairs of nine raptor species: 14 red-tailed hawk, 10 red-shouldered hawk, nine Cooper's hawk, six great-horned owl, two barred owl, two kestrel and single bald eagle, peregrine falcon and Eastern screech owl nests.
This year, by St. Patrick's Day, the group had already counted 30 nests, raising hopes for another record-breaking year.
Since the project began, the monitoring territory has expanded to encompass the entire Oak Openings Region--a 100- to 125-square-mile area that includes the Metropark of the same name, two other Metroparks (Wildwood Preserve and Secor), state nature preserves, a state forest, a preserve owned by The Nature Conservancy and many private residential and commercial properties.
"You look around at all this territory and you have to wonder, "What were we thinking?" laughed co-leader Steve Lauer, of Waterville, the eagle-eyed volunteer who first approached Menard about starting the program.
Information gathered from the survey is fed to the Ohio Breeding Bird Atlas, while GPS data are entered into a database to help determine habitat needs of nesting raptors.
Other studies focus on specific species or habitats, or multiple species in a small area for a short period of time, but the Oak Openings project is one of the few in the country to look at all raptors over a large area for a sustained period of time. "We may be it," Menard said.
In addition to their research, the raptor volunteers are also educating the community about the natural resources in their backyards and the importance of the Oak Openings region.
"Most of the homeowners I've talked to were aware the birds were there and took an interest in them," Lauer said. "Some have even become volunteers.
"What's great (about raptor monitoring) is that you don't have to be an experienced birder," said Lauer, who wrote a section about raptors in the book "Birds of the Toledo Area," an update of a classic reference guide by the late Lou Campbell.
Another volunteer, Tim Fletcher, who joined the program last season and has a sharp eye for identifying "blobs in trees," said he, too, meets people during his hawk-watching excursions. "I don't know how many times I've stopped on the side of the road with my flashers on and people stopped to ask if I need help," he said.